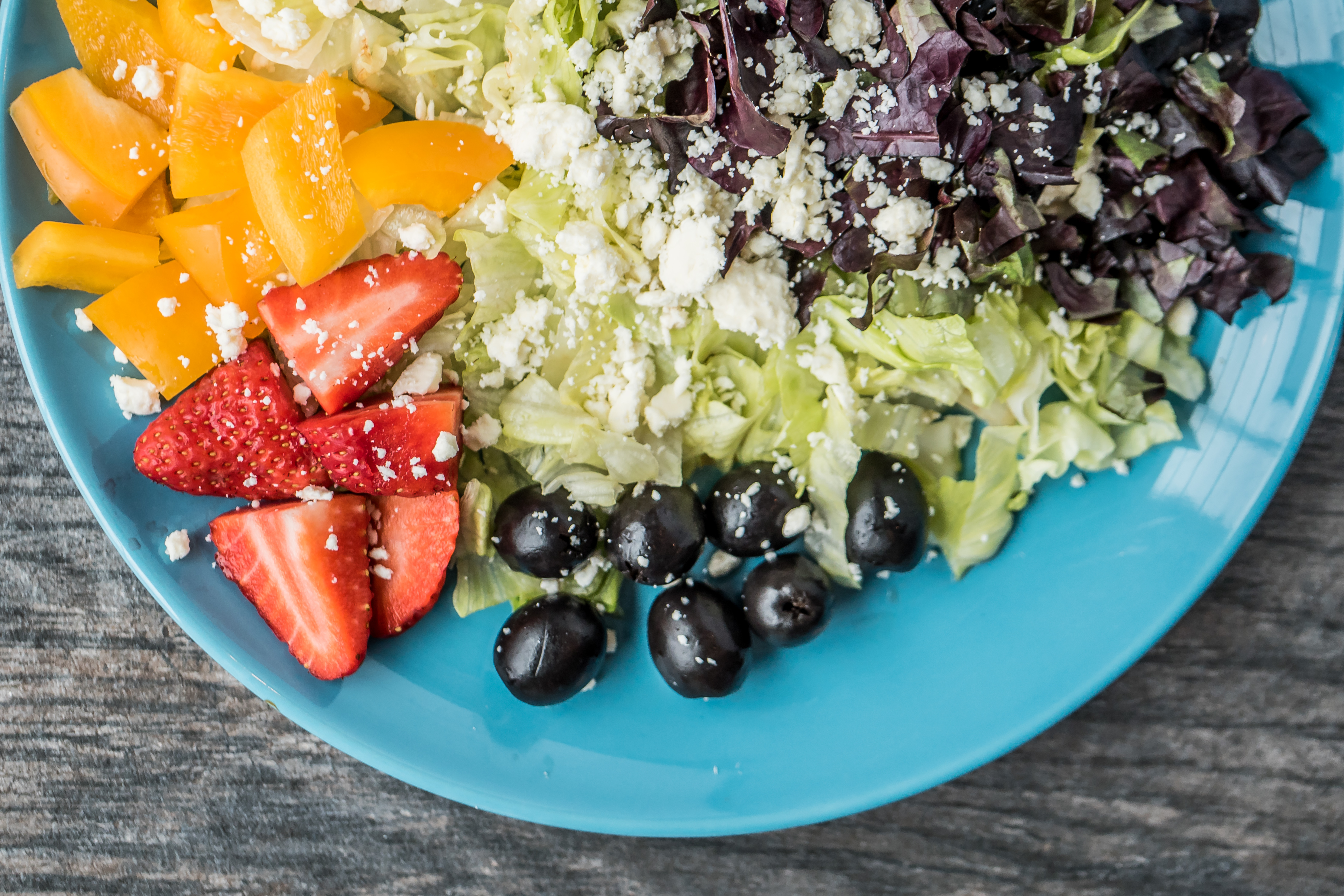 Sure, in our minds we can come up with a delicious salad. Then we head to the refrigerator and get lost in the sea of overwhelm. We don't have the energy much less the ingredients. Instead of giving up on the salad idea, make an easy salad with what you have. It just might surprise you…
We are only going to eat what we prepare, simple as that. So what are we going to prepare?
During chronic illness, EASY is the best bet for any hope of a healthy meal. Start with easy and end with an easy salad you love, because it comes from ingredients you have on hand.
The easiest salad on earth is the one you throw together from what you already have.
1) Dressing Options
Start with your dressing options, that will determine the main theme of your salad. You can go about this one of two ways. How do your taste buds work? Do they think in terms of ethnic foods or do you think in terms of dressing flavors??
Italian, Mexican, Asian, Mediterranean, Etc.
Honey Mustard, French, Thousand Island, Ranch, Etc.
Okay, now you have a theme dressing in mind. What do you already have in the house? Are there dressings sitting in your refrigerator that need to be used up, use them!!
Homemade really is best. Homemade is the tastiest and the healthiest because you can control your ingredients. Keeping out the refined sugar, chemicals, and processed ingredients is very important for your health and taste buds.
Keep it easy: Vinegar, oil, lemon and possibly honey are an easy dressing. They can be blended first or drizzled on separately.
See below for more dressing options.
2) Fresh Produce Options
Second step is simply digging through your refrigerator and countertops and pulling out your fresh produce. What needs to be used? What looks good to you? What are you willing to chop up real quick?
Did you know that it is perfectly acceptable to put as many kinds of lettuce greens in your salad as you desire??? The darker the color of greens (or purple), usually the greater nutritional value.
Remember: cut stems out of greens like kale, they taste much better that way.
Don't forget root veggies are great in salads; beetroot, radish, etc. A purple sweet potato grated is fun and nutritious.
Do you have part of a cabbage hanging around, cut up about 1/2 cup and use it in your salad.
Sprouts of any kind are usually good in salads. If you love them, pile on extra.
Are you growing anything?? Use it!!!
3) Nuts & Seeds Options
Almost always a good idea to scrounge around the cupboards or frig and see what nuts and seeds you have on hand. Add them to your salad.
4) Berries & Fruit Options
If you have any berries, add them. If you have a piece of fruit hanging around, use it. You can easily cut up just about any piece of fruit and your salad becomes restaurant worthy!!!
Yes, it is true that fruit contains natural sugars that are not always a good idea when you are chronically ill. The nutritional value of berries and their low sugar content make them a good choice during illness. Using 1/4 to 1/2 cup of berries (or any fruit you have on hand) is a reasonable amount if you are okay with fruit.
5) Other Options
Be creative, what do you already have that could possibly go on a salad? Remember, even cooked leftovers are great on salads. They are cold in your frig, so simply place them on your salad, the dressing will help tie it all together. Might surprise you!!
If you have a sweet potato, use it. Peel it and grate it raw on your salad. If you have any leftover cooked eggs in your frig, use them. Leftover rice or quinoa is fun on a salad. So are beans, of any kind.
What is in your cupboard that would work. Olives, sun-dried tomatoes, or artichoke hearts!!
Might sound odd but what about kelp noodles? They would add texture and nutrients and they are a ready-to-eat product.
Do you have an Asian type dressing, what about half a can of bamboo shoots or water chestnuts?
Is there goat cheese crumbles sitting in your frig, use them!!
Keep Basics In Stock
By having things on hand, you are more likely to use them!! When the mood hits you to have a salad, it is more likely to happen if you don't have to make a grocery list and go shopping.
I suggest looking at your local grocery for these items. They may (or may not) be less expensive.
Vinegar Options
Oils for Dressings
Activation Products provide the purest oils that are designed as superfoods – highly dense in nutrients. And their products are certified organic, helping to create pure products. That is why they are so expensive. I have used them for years and they are like concentrates, so I use a small amount to create salad dressings. Because you are using small amounts, they really are economical.
For extra bang for your buck, correspond Activation oils with your Balancing Hormones With Seed Rotation.
Remember, oils are not stable in heat or stored for long periods of time, so be cautious when having them delivered in the summer and/or the expiration date in your local grocery.
Add Flavor
By adding flavor to your dressing, you will enjoy it more. Try different healthy options…
Salad Dressing Options
Homemade dressing is always healthiest but if it keeps you from eating salad, find a healthy version of dressing.
Nuts & Seeds
When you have nuts and seeds on hand, you tend to use them!! Raw and organic provide the best nutrients. Unsalted is also best – you can add sea salt or Himalayan salt yourself. A handful a day is a reasonable portion.
You can sprinkle nuts on top of a salad, or you can put them in your blender with your dressing. Cashews blended up with dressing to make it smooth and creamy.
NUTS…
SEEDS…
By keeping meals easy, you have a greater chance at eating healthy while you are ill. Enjoy eating real food, it actually nourishes as you delight in it.
Did you know? The liver is the most important detoxifying organ in the body. When the liver can't effectively neutralize and dispose of toxins, they accumulate in the body. Kidney/Liver Detox supports not only your liver but your kidneys as well as liver bile duct.
AFFILIATE DISCLOSURE: In order for me to support my blogging and social media activities, I may receive monetary compensation for links to products from this post. However, I only recommend products that I personally love and use myself. If it is not good enough for me, it certainly is not good enough for you!!
HEALTH COACH DISCLAIMER: Health/Wellness coaching is not intended to diagnose, treat, prevent or cure any disease or condition. It is not intended to substitute for the advice, treatment and/or diagnosis of a qualified licensed professional. Trained and certified Health Coaches may not make any medical diagnoses, claims and/or substitute for your personal physician's care. As your health/wellness coach I do not provide a second opinion or in any way attempt to alter the treatment plans or therapeutic goals/recommendations of your personal physician. It is my role to partner with you to provide ongoing support and accountability as you create an action plan to meet and maintain your health goals.