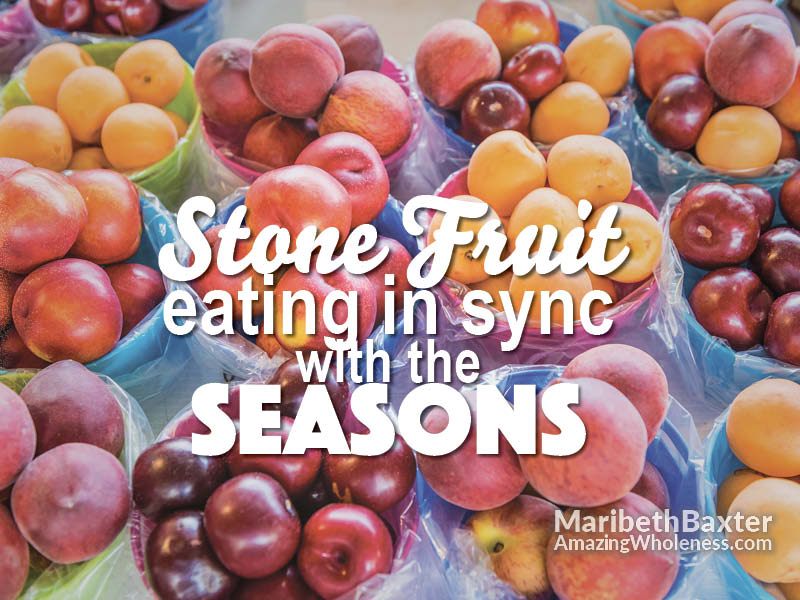 Time for stone fruit. Fruit drips of the sweetness we are meant to enjoy. How to eat fresh fruit during illness…
Stone Fruit
Fruit that grows on a tree that has a pit; peaches, nectarines, plums and cherries.
What is the difference between a peach and a nectarine?? The fuzzies!!! Peaches are fuzzy, nectarines are not. Both are mouthwatering delicious.
Purchase organic from your local store. Even better would be a farmer's market with locally grown natural stone fruit.
Store at room temperature and eat!!
Natural Sugar In Fruit
Yes, fruit has natural sugar and during chronic illness many chose not to indulge. But if you are ill, standing in the kitchen with a sweet tooth and just about ready to grab something with sugar, choose fruit!! Always better for you than processed sugar.
Are you okay with eating fruit sugar? Then go for it. Eating fruit that is in season is part of a beautiful natural process of seasons and all that they provide.
Eat Fruit For Health
Fresh organic summer fruit provides the water content and nutrients to gently detox. Think about it, summer rolls around and there is an abundance of fresh fruit that is provided naturally. Why?? So that we can eat it and use it for cleansing our bodies in sync with the seasons.
I am not suggesting you go overboard because too much natural sugar is hard on the ill body. But eating some fresh seasonal fruit can remind you of the sweetness of life and why you are on a healing journey.
Dig In
Bite into a fresh stone fruit and enjoy.
I have never liked biting into fruit. I like cutting mine up. That simple, I rinse the fruit with natural soap, cut the flesh off of the stone and indulge in pure delight.
If you have not yet healed a leaky gut, you may want to heat your fruit for easier digestion. Peeling it will make it even easier to digest.
If you still have gut issues, try this…
Heat skillet with butter or coconut oil
Saute:
Add cut up (peeled if necessary) stone fruit
Add 1 box/can organic coconut cream – optional
Stir until warm and creamy
Remove from heat and sprinkle on organic raw nuts
The cinnamon and ginger help with digestion. The coconut cream, nuts and cinnamon help stabilize blood sugar while eating natural sugar from fruit.
As always, Produce Geek is a fun way to keep up with free email alerts for seasonal produce.
AFFILIATE DISCLOSURE: In order for me to support my blogging and social media activities, I may receive monetary compensation for links to products from this post. However, I only recommend products that I personally love and use myself. If it is not good enough for me, it certainly is not good enough for you!!
HEALTH COACH DISCLAIMER: Health/Wellness coaching is not intended to diagnose, treat, prevent or cure any disease or condition. It is not intended to substitute for the advice, treatment and/or diagnosis of a qualified licensed professional. Trained and certified Health Coaches may not make any medical diagnoses, claims and/or substitute for your personal physician's care. As your health/wellness coach I do not provide a second opinion or in any way attempt to alter the treatment plans or therapeutic goals/recommendations of your personal physician. It is my role to partner with you to provide ongoing support and accountability as you create an action plan to meet and maintain your health goals.