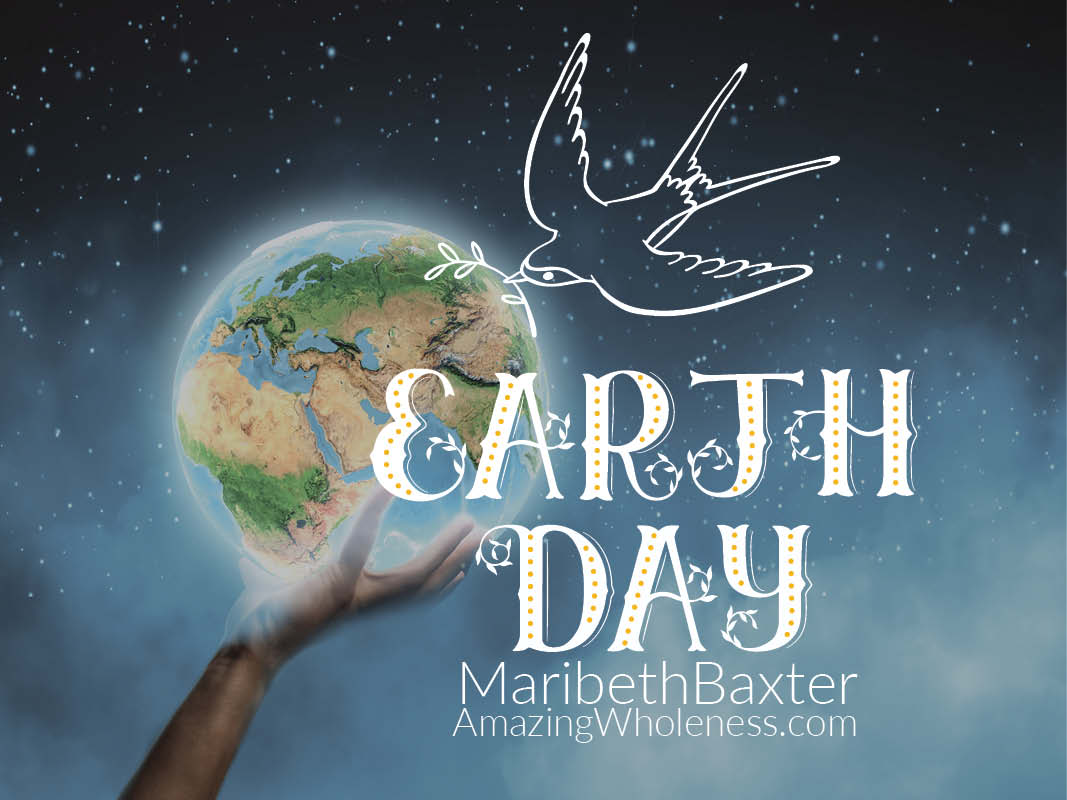 I know, Earth Day "should" be about saving the Earth, and rightly so. Then there is the mind of ill people, sucked into the depths of yuck-and-muck. What if we used Earth Day to celebrate the Earth, regardless of chronic illness? What if we could use the day as a vehicle to mind travel, wanderlust. Get outside of ourselves, our hurting tired bodies and minds. A moment of relief from the daily grind of chronic illness!
During the depths of my chronic illness, I could not even have this thought. The minute-by-minute fight to stay alive and make it to the next day was the biggest picture I could see. If that is where you are, my heart goes out to you. As always, just do your best and that is always good enough.
Wanderlust Perspective of Happy Earth Day
Part of cleaning up the Earth is about making it a happier healthier place. Anyone who is chronically ill who can find a way to move through illness, instead of getting stuck in it, is making this Earth a better place. It is all in the perspective!!!

Earth comes with many experiences to be had. The different cultures to be embraced. The enormous amount of majestic sights to see. The possibilities for adventure are endless.
I know, while we are chronically ill our bodies cannot literally take us there. But our minds can, hence wanderlust…
We don't necessarily need to go anywhere in particular, we just don't care to stay in one spot, hence wanderlust…
We need movement for a healing journey. A journey requires the activity of NOT staying in one spot.
This is a fun definition of wanderlust…
Wanderlust may reflect an intense urge for self-development by experiencing the unknown, confronting unforeseen challenges, getting to know unfamiliar cultures, ways of life and behaviours or may be driven by the desire to escape and leave behind depressive feelings…

~ Wikipedia
While in the state of chronic illness, we are given the gift of opportunity to explore the possibilities of life from a different vantage point, usually in bed!!!
Where would we go if we could? And why?
How would we travel if we could? And why?
Who would we want to encounter if we could? And why?
Who (if anyone) would we want to share the experience with? And why?
What are the goals of wanting to wanderlust?
Do we have the ability to clear our minds and have no goals for our wanderlust adventure?
Go Deeper
How have we NOT been adventurous enough in our own healing journey? Explore why, right from bed if you need to.
Remember, great movement can be done by being still and listening.

Internet Wanderlust
One way I work on my healing journey is through wanderlust. The Internet can take you to grand places while still in bed on a healing journey.
You can easily get on the Internet and find all kinds of sites with all kinds of "travel" ideas.
Some of my favorite Internet spots to hang out from bed to wanderlust are…
Movie Wanderlust
Wanderlust can be done through movies as well. You can get lost in all kinds of movies with incredible filming of places around the world. Or movie about getting lost in the wanderlust concept…
WILD Movie – Academy Award Winner Reese Witherspoon (Walk The Line) stars in this extraordinary true story from the director of Dallas Buyers Club and based on the best-selling novel. – Rated R – Amazon Prime
The Secret Life of Walter Mitty Movie – Ben Stiller directs and stars in this inspiring story about an ordinary man who finds the courage to discover his destiny and leap into the extraordinary adventure that is life. – Rated PG – Amazon Prime
Wanderlust Movie – Paul Rudd and Jennifer Aniston star in Wanderlust, a comedy about a couple who leaves the big city pressures of Manhattan and joins a freewheeling community where the only rule is to be yourself. – Rated R – Amazon Prime
Christian perspective of wanderlust with the Holy Spirit – Holy Ghost Movie – Can the Holy Spirit direct a movie? In this fast-paced documentary from the director of the popular films Finger of God, Furious Love, and Father of Lights, Darren Wilson sets out to make a movie that is completely led by the Holy Spirit. No plan, no script, no safety net–just go wherever he feels the Spirit leading him to try and discover the adventure God has for him. – Amazon Prime
Year By The Sea Movie – Hoping to reclaim who she was before marriage and children, an empty nester (Karen Allen) retreats to Cape Cod where she embarks upon a quest to set herself free. – Amazon Prime
The Way Movie – A father heads overseas to recover the body of his estranged son who died while traveling the "El camino de Santiago" from France to Spain. Rated PG13 – Amazon Prime
Ride The Divide Movie – A small group of adventurous mountain bikers attempt to race the longest mountain bike route in the world, traversing over 2700 miles along the Rocky Mountains from Banff, Canada to the Mexican border. – Amazon Prime
Red Dot On The Ocean Movie – Once labeled a "youth-at-risk," 30-year old Matt Rutherford risked it all in an attempt to become the first person to sail alone, nonstop around North and South America. Red Dot on the Ocean is the story of Matt's death-defying voyage and the childhood odyssey that shaped him. – Amazon Prime
Let your mind travel to relieve the boring, scary, monotonous, grind of chronic illness. Those of you whose bodies are not yet ready for physical adventure can use your minds to go to big places.
Let me know where your wanderlust adventures are taking you while on your healing journey.
AFFILIATE DISCLOSURE: In order for me to support my blogging and social media activities, I may receive monetary compensation for links to products from this post. However, I only recommend products that I personally love and use myself. If it is not good enough for me, it certainly is not good enough for you!!
HEALTH COACH DISCLAIMER: Health/Wellness coaching is not intended to diagnose, treat, prevent or cure any disease or condition. It is not intended to substitute for the advice, treatment and/or diagnosis of a qualified licensed professional. Trained and certified Health Coaches may not make any medical diagnoses, claims and/or substitute for your personal physician's care. As your health/wellness coach I do not provide a second opinion or in any way attempt to alter the treatment plans or therapeutic goals/recommendations of your personal physician. It is my role to partner with you to provide ongoing support and accountability as you create an action plan to meet and maintain your health goals.