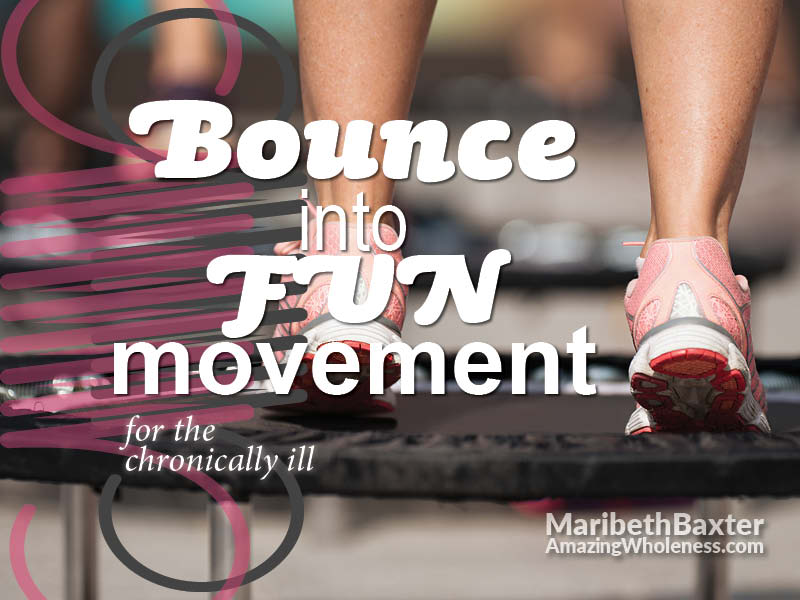 We are finally understanding that the chronically ill don't need exercise, they need movement. Gentle and fun movement that is not stressful or harmful to the struggling body, like bouncing. Your feet don't even need to leave the surface to create effective movement for your body.
History of the Bounce
Trampoline and tumbling can be traced to archeological drawings in ancient China, Egypt and Persia.

~ History of Trampoline
Developed in 1934, trampolines were originally used to train astronauts. NASA also used rebounders on the return of astronauts to counter the effects on space flight.
Body acceleration distribution and O2 uptake in humans during running and jumping ~ NASA Study
Trampolines are also used as a training tool for other sports and now are so popular that they are part of the Olympic Games. The first Trampoline World Championships took place in 1964, and trampoline was first recognized as a sport in the U.S. in 1967. The double mini-trampoline competition was added in 1978.
Let's tone down the high impact that trampolines have had in history and find the practical use while chronically ill.
Low to NO Impact Movement
Most exercise creates too much impact on the chronically ill person. We can become so ill that we simply cannot take it. The impact creates so much stress on an ill body that it is counter-productive. Movement with low or no impact is a better solution.
Those who are ill but can still walk around the house can try bouncing, very gently.
Rebounding
This is were rebounding comes in. A rebounder is a mini trampoline. They are perfect for an indoor solution to movement. It can even help with the balance issues that so often come with chronic illness.
Our feet never even need to leave the surface. The gentle bounce on the rebounder will basically do the work for you.
Bounce The Lymph Into Action
Rebounding can lead to increased lymph fluid circulation. Supposedly there is an increase in the circulation of this fluid when the lymphatic valves are opened during a change in gravitational pull. This particular change occurs upon the moment you land on the trampoline, thanks to gravity.
Our lymph system does not function on its own like a heart or our liver and other organs and systems. Our lymph system requires movement for it to move. Yes, it truly is that simple. We must move no matter how bad we feel. Walking around the house is a great start.
When you feel ready to bounce your lymph into action, feel the movement and enjoy the child-like fun of it all.
Changes observed in lymphocyte behavior during gravitational unloading ~ NCBI
Rebounding Helps With Cleansing and Detoxing
Rebounding can increase oxygen uptake because more oxygen can reach the cells due to the gravity changes that occur when bouncing.
A rebound "workout" can also strengthen your body while detoxifying the cells within it. Consider a "workout" when you have slightly increased your heart rate and started to sweat. Remember, depending on your health, you may not want to go that far. Yet, if you do, there are additional benefits.
The improved rate of toxin removal from the body is a particularly useful benefit of regular rebounding. Working up a sweat also helps the body get rid of various toxins and chemicals to promote healthy skin, making you glow. The oxygenation of the blood and improved lymph flow will have a positive impact. When coupled with good hydration, this truly is one of the best ways to detox the body to look and feel better with low to no impact.
Keep Movement Fun and Doable
If you don't keep movement fun and doable, chances are you won't do it.
During your illness, chose movement that makes you smile, lifts your spirits and gets your body moving without the stress of exercise.
Rebounding brings thoughts of jumping on a bed to me. Makes me smile and keeps me bouncing!!
Bounce Into Action
When you feel ready to bounce, picture the movement as you step on to the rebounder.
Step 1
If you are new to any movement from a chronic illness, there will most likely be a stability issue. Use the handrail on the rebounder or place the rebounder next to something you can hold on to for stability.
Simply step on it, do not bounce. Get your baring, your sense of balance without bouncing. That all by itself is grand success for someone who has not gotten out of bed for an extended period of time. Celebrate and don't overdo it.
Step 2
Gently bend your knees to create a soft slow motion that makes a slight bounce, keeping your feet on the surface.
The kid in your will come to mind naturally and you will create a motion of bouncing. Bounce with your feet on the surface a few times and say whaaaahooooooo out loud.
Step 3
If you can "walk" on the rebounder, do so. Walk in place for a couple minutes.
If you are able to maintain your balance while walking keep going.
If you become winded, time to stop for today and do it again tomorrow. Each step is huge success!!!!
Step 4
After you become comfortable with walking in place, try gently bouncing in place, barely rising above the surface of the rebounder.
It is fine to hold on to the handle bar of the rebounder or the wall/chair/bedrail that you set the rebounder next to.
Bounce for a few times and determine if you can keep going or if that was enough for the day. Smile at your success.
Step 5
As you become more comfortable and realize it is fun, step it up little by little. Each day (or even each week) add more time you are on your rebounder.
You can increase your bouncing by minutes or bounces. For some reason, I like to count my bounces instead of watching a clock.
Remember, with chronic illness comes lots of ups and downs. During a down time you might need to give bouncing a break and come back to it in a day or a week when you can. Allow for that. Accept that healing does not come in a straight upward path, instead there are many hills and valleys to it. Going with the flow of your healing will get you down the path better and faster.
A rebounder is something that will evolve with your health. The healthier you become, the more you can do on a rebounder.
It is one piece of exercise equipment that you can never outgrow. When you recover from illness, the exact same rebounder can be used for "exercise" instead of "movement." Using that logic, if you can afford a good one, it is well worth it because you will never outgrow it.
Buying A Rebounder
I have to admit, I don't like putting things together. I have purchased two rebounders in the last 20 years and both times I purchased them from a sporting goods store and had them put it together for me (for free). Both times, I owned a SUV that would hold the assembled unit.
If you are able to get to a sporting goods store, have them assemble it for you. First, think out whether you want the handlebar on it or not. If you are still very ill, you most likely will want it. If you can use the rebounder without it, many of them will slide under a bed for easy hide-away access.
The other option is to purchase a rebounder on-line. The basic concept is that the more expensive the rebounder, the better the springs are. Budget during illness is usually a concern so find your personal balance…
Enjoy movement that you can handle. Don't compare yourself to anyone else, just do what is best for you and where you are in your health journey. Celebrate your victories no matter how small they may seem. When you are chronically ill, any movement is a tremendous victory.
Happy bouncing,
AFFILIATE DISCLOSURE: In order for me to support my blogging and social media activities, I may receive monetary compensation for links to products from this post. However, I only recommend products that I personally love and use myself. If it is not good enough for me, it certainly is not good enough for you!!
HEALTH COACH DISCLAIMER: Health/Wellness coaching is not intended to diagnose, treat, prevent or cure any disease or condition. It is not intended to substitute for the advice, treatment and/or diagnosis of a qualified licensed professional. Trained and certified Health Coaches may not make any medical diagnoses, claims and/or substitute for your personal physician's care. As your health/wellness coach I do not provide a second opinion or in any way attempt to alter the treatment plans or therapeutic goals/recommendations of your personal physician. It is my role to partner with you to provide ongoing support and accountability as you create an action plan to meet and maintain your health goals.