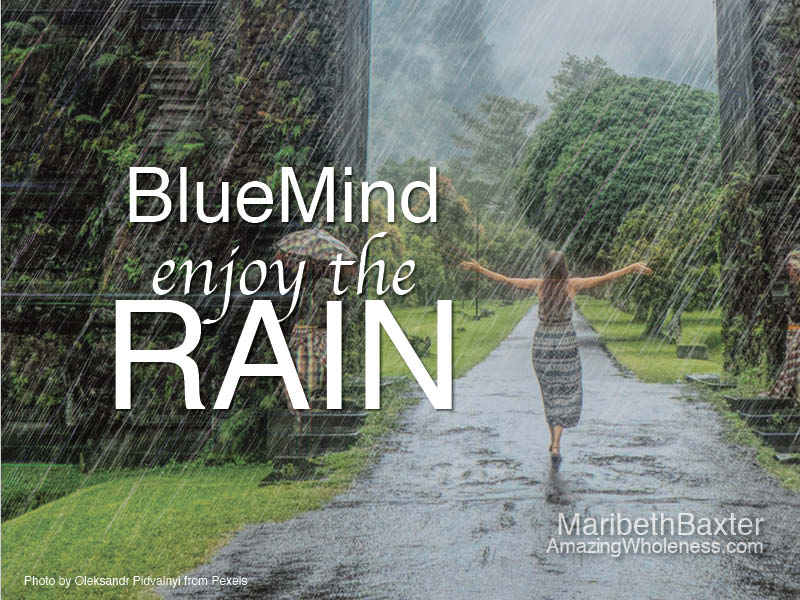 When was the last time you stood outside in the rain? The last time I did it was in summertime when it calmed my spirit to feel the cool fresh drops. I often enjoy the sprinkles of rain. But the last time I stood in a downpour was one of the highlights of my life. It created a blue-mind memory.
Blue mind is when we experience water in a way that calm our minds.
Red mind is when we are doing life to fast and furious and under too much stress.
Using water in all kinds of ways can calm our minds and souls. Not all of us live on the beach so let's find ways to create blue-mind memories…
Enjoying the rain is so easy, and free. It rains everywhere on the planet. I lived in Arizona for 20 years and the rare times that it did rain, I soaked it up, literally.
Now in Texas, I get to experience the sudden torrential downpours. In the summertime it is a ball to stand out in the rain to get cooled off and get lost in the moment.
Not all healing comes from a pill. Explore new ideas that are actually ancient tried and true methods like standing out in the rain.
During chronic illness, we need all the stress relief we can find. Especially the free ones. Rain is free, get out there!!
Blue Mind Movement
Join Dr. Jay Wallace at Blue Mind to understand and enjoy the emotional and physical benefits of water in our lives.