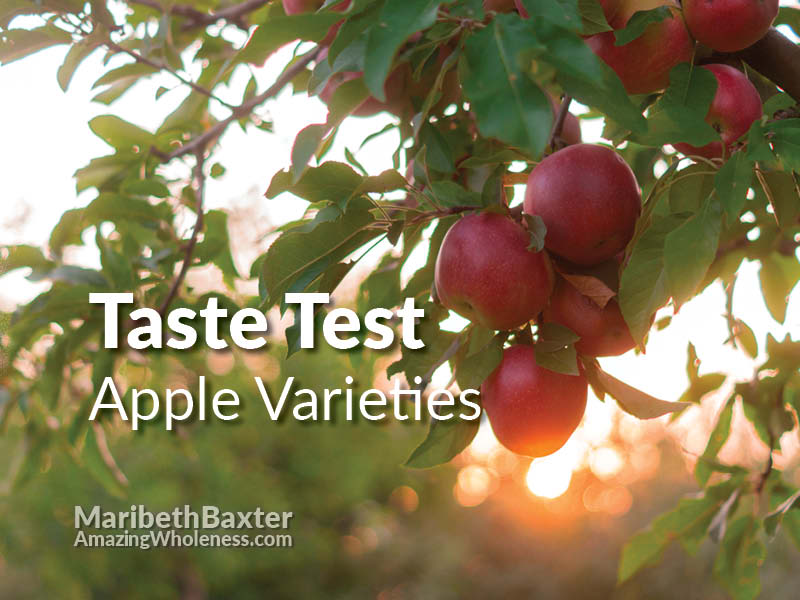 All apples are not the same. Here we are in apple season and it is the perfect time to taste test all the different kinds of apples. Bet you can find varieties at your local grocery that you have never heard of before. They can provide some juicy tastes that you never imagined.
Gastrome
That is a new word to me but it fits perfectly here. Since we all have to eat, might as well make food fun.
Gastronome = a lover of good food, especially: one with a serious interest in gastronomy
Do you LOVE good food? Then you and I are a gastronomist!!!
Natural Sugar During Illness
I LOVE apples. I have eaten an apple a day for 50 years (minus the one year I did without any natural sugar, fruit).
Here's the deal – if you are going to reach for a snack that is laden with processed sugar, I would much prefer you reach for fruit. I know fruit has natural sugar in it and technically during chronic illness, it is not a good idea to even eat the natural sugar in fruit. But if you are going to reach for something sweet anyway, EAT FRUIT.
Another trick to eating fruit during illness is to peel it, then heat it, then eat it. It is easier to digest that way. I personally sauté my fruit and sprinkle cinnamon or pumpkin pie spice on it. Cinnamon helps with sugar spikes. Nuts add a healthy fat and protein to also level out sugar spikes.
Another trick is to eat only half of an apple a day instead of the whole delisious sweet juicy thing.
And another trick is to eat Granny Smith apples, they supposedly contain the least amount of natural sugar, easiest to digest, and are the best choice during illness. I personally do not like them. To get around that, I make my own applesauce with them and add cinnamon. That takes out some of the TART of them.
Apple Varieties
Believe it or not, I do not like the well-known red delicious apples, never have. That has led me to exploring other varieties.
My kids and I thought we hit the jackpot when we discovered Fuji apples. We ate them for years. They are more crunchy than the normal apple and sweet.
Then a few years ago I discovered Honey Crisp apples. I could only find them during apple season but I would devour them. They taste, well… like HONEY and they are CRISP. Imagine that!!!
Each year I attempt to hover at the apple stand and try new varieties.
A really fun Autumn activity is to purchase one of each variety, go home, cut them up, and see if you can guess which one is which, by taste. Make a cheat sheet so you know the right answer!!!
New ones this year that I have never heard of…
Lucy Rose (red-flesh)
SugarBee
SnapDragon
Envy
As always, I am a huge fan of Produce Geek. They promote fresh produce by keeping us up-to-date on seasonal delights. It is FREE. You can sign up for free and they send you fresh produce videos in your inbox. I have no affiliation with them, I just think they do a great job.
Nourishment by Design
As humans, we are designed to thrive on nourishment. Nourishment comes in many forms. Obviously the vitamins, minerals, phytochemicals, antioxidants, etc etc. But did you know that nourishment also comes from comfort. The idea of comfort makes us feel more comfortable which calms our bodies creating a better atmosphere for healing.
Use real food to create COMFORT FOOD. Applesauce is a common comfort food. Don't make it complicated or you won't do it.
Peel, core and cut up an apple. Place 1/8 cup water in a small pan with apple chunks. Add 1 teaspoon maple syrup (or stevia). Let them cook until they are smushy, to your liking. You can use a fork to smash them. If you do not like chunks, put them in a blender.
Whala, comfort food fit for nourishing the chronically ill.
If you have gone without any sugar you can leave out the maple syrup and the natural sweetness of the apple will be enough.
Nourish yourself in every way to get you moving down the healing path with greater comfort.
AFFILIATE DISCLOSURE: In order for me to support my blogging and social media activities, I may receive monetary compensation for links to products from this post. However, I only recommend products that I personally love and use myself. If it is not good enough for me, it certainly is not good enough for you!!