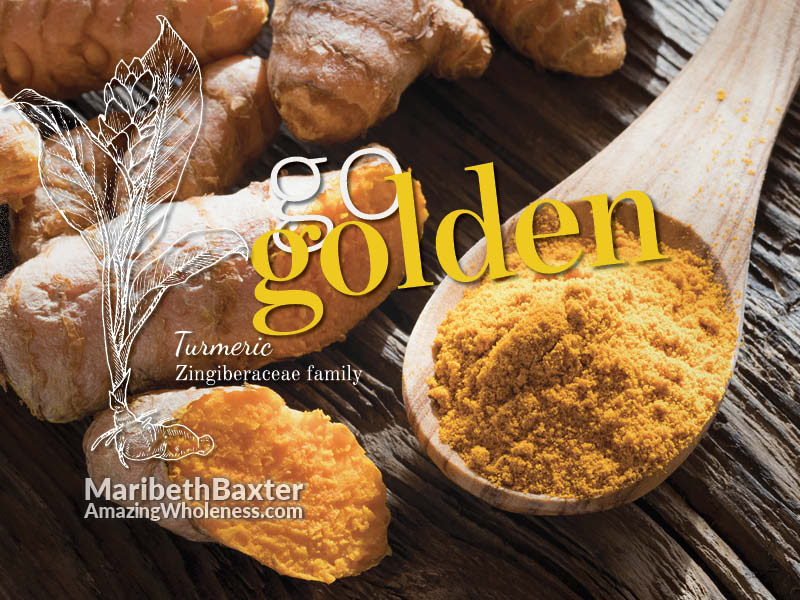 Real food is usually the best for nourishing our bodies and keeping them thriving. Turmeric is one of those real foods that have incredible health benefits, more than one might realize. Research in abundance and historical practices backing up this basic food, a root with mega-power!!!
Turmeric, A Root
Turmeric is real food, a root of all things. It is in the ginger family.
Turmeric is filled with health, healing and wellbeing intelligence!!!
The root is brilliant in color, beautiful shades of orange.
The plant (above ground) is beautiful itself…
Turmeric, A Health Tool
Science galore on turmeric. Evidence-based research in abundance. This is real food that REALLY works for health benefits.
Fights Inflammation
NCBI – Nonsteroidal anti-inflammatory agents… "…Overall these results indicate that aspirin and ibuprofen are least potent, while resveratrol, curcumin, celecoxib, and tamoxifen are the most potent anti-inflammatory and antiproliferative agents of those we studied."
Reduces Depression Symptoms
Boosts Skin Health
And the list goes on, and on and on…
Currently, there are over 12,500 peer-reviewed articles published proving turmeric benefits, especially one of its renowned healing compounds, curcumin.
Look at the science yourself. Here are three great resources on turmeric science, thousands of studies inside these three resources…
Tip & Trick
If you do not like the taste but want the benefits…. Buy organic turmeric root powder and put it in capsules yourself. That way you are still getting the whole food benefit with the active ingredient of curcumin, intelligently packaged in WHOLE food form and not having to taste it (IF you don't like it).
Curcumin, the Active Compound of Turmeric
Curcumin has been a hot topic, and rightly so. It is the main active compound in turmeric that has impressive health benefits.
There are several chemical compounds found in this spice, known as curcuminoids, making turmeric a "functional food" for health. Meaning they have a potentially positive effect on health beyond basic nutrition.
Curcumin is one of over 300 constituents in turmeric. When we separate that out of the food, it takes on properties sort of like a drug, with possible side effects.
Instead, using it as a whole food, allows the body to recognize the curcumin as a spice, as FOOD, so it can be safely consumed as it has been for thousands of years.
Practitioners in Traditional Chinese Medicine and Ayurveda have been prescribing turmeric and its extracts as part of holistic protocols for thousands of years. Same as the human race has been simply eating it as a food for thousands of years — without all the fancy research!!
Now we have studies that show that the whole food turmeric root outperforms curcumin alone.
My caution is to not hyper-focus on the active compound which leaves out the benefits of the whole food. Food was created to work in its entirety, for our health and wellbeing, as a WHOLE FOOD. The active compound works better when consumed as whole food.
Using Turmeric
I use it for everything and on everything because of its impressive research and history over thousands of years.
It makes a healthy tasty warm drink as Turmeric Gold or some call it Turmeric Milk.
Sometimes I don't want that much turmeric taste so I sprinkle a little Turmeric Milk Mix – Certified Organic in my morning coffee drink.
You can use it in any dish — If you love the taste, use more. If you don't care for the taste, simply use less of it so you don't even notice it is there. It can be eaten raw or in cooked dishes.
You can use it in face masks — do a test patch first; make sure you are not sensitive to it and beware that it stains.
Sourcing Turmeric
Knowing your sources of ALL food, of anything that you consume is truly important. Turmeric is no different.
Fresh is always best, especially if it is organic. Many health food stores and even grocery stores are now carrying fresh turmeric root in the produce aisle. As your local farmer at the Farmer's Market about fresh turmeric.
Once in a while, you will have a piece of fresh turmeric that springs a sprout!! Use it to grow your own. It is a root veggie/spice. It grows sort of like a potato. If you don't have a garden or a yard, grow it in a large pot.
Banyan Botanicals is my turmeric go-to because its turmeric is certified organic and has a reputable source. I can taste the purity and have used it for a decade now.
Sugar-Free Turmeric Milk Mix (Banyan's mix has cane sugar — IF you are sugar-free, use one of the following instead)
While I had raging neurological Lyme disease my brain was incredibly inflamed. During those years I used a Nutramedix product, AVEA, that greatly relieved the inflammation (AVEA = Turmeric root extract). Contact me to obtain AVEA.
Beauty of Real Food for Real Health
Cautions With Turmeric
Even real food can have some cautions with it. As with anything you consume, know what you are eating and know the cautions for that particular real food.
There are more cautions using curcumin alone than the whole root turmeric. I do not recommend using curcumin, only whole food turmeric root.
Contraindications for turmeric root…
Caution in pregnancy—use only after discussing with your health care practitioner. Generally considered safe in pregnancy when used in small amounts as a spice in cooking.
Caution in patients taking blood-thinning and platelet-inhibiting medications.
Avoid in cases of acute hepatitis, jaundice, gallstones, bile duct obstruction, ulcers, and hyperacidity.
AFFILIATE DISCLOSURE: In order for me to support my blogging and social media activities, I may receive monetary compensation for links to products from this post. However, I only recommend products that I personally love and use myself. If it is not good enough for me, it certainly is not good enough for you!!
HEALTH COACH DISCLAIMER: Health/Wellness coaching is not intended to diagnose, treat, prevent or cure any disease or condition. It is not intended to substitute for the advice, treatment and/or diagnosis of a qualified licensed professional. Trained and certified Health Coaches may not make any medical diagnoses, claims and/or substitute for your personal physician's care. As your health/wellness coach I do not provide a second opinion or in any way attempt to alter the treatment plans or therapeutic goals/recommendations of your personal physician. It is my role to partner with you to provide ongoing support and accountability as you create an action plan to meet and maintain your health goals.