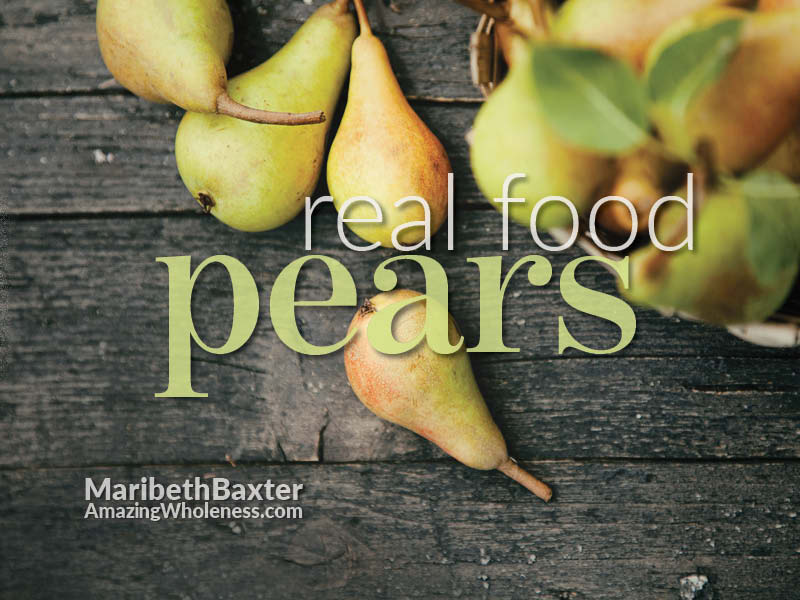 Pears are a sweet bell-shaped fruit that has a fun grainy, almost sandlike, texture. Having been around since ancient times and in America, since 1620 we have many varieties to choose from. As always, real food provides real nutrients and real taste that cannot be beaten.
Pear trees grow like apple trees. They have beautiful blossoms in the Spring that turn into sweet fruit in during late Autumn and early winter.
Pear History
There is evidence of the use of pears since prehistoric times. Asian pears were cultivated in China as early as 1134 B.C. and the first pear tree was planted in North America in 1620 in the Massachusetts Bay colony, according to Wikipedia.
Pear Nutrients
Pears are chalked full of nourishment and goodness.
immune-boosting vitamin C
provides antioxidants
great source of fiber
weight loss support
supports heart health
improves digestion
helps maintain bone health
They are an easy healthy snack dripping with sweetness.
Pears were used as a natural remedy against nausea in ancient Greece. The spices ginger and cinnamon are great taste matches for pears which also work with calming nausea.
Pear Varieties
There are over 3,000 pear varieties grown worldwide. The best pear is the one that you will eat!
Head to your local farmer's market or grocery and see what they have available to choose from.
Better yet, get one of each and enjoy. If you have not done this before, you might be surprised how different the varieties taste.
Buying Pears
A local farmer's market with freshly picked pears, hopefully organic, are always my first choice. They are the freshest so they have the most nutrients. They are not being shipped across the country or the world so the carbon blueprint is less. Most of all, supporting any farmer who is working hard to grow healthy fresh food for us is a good thing to do.
Second choice, organic pears at your local grocery or health food store, in the produce aisle.
Pears have a late harvest, so they make perfect Thanksgiving and Christmas gifts. There are actually companies who have promoted this for decades, shipping fresh fruit all over the world. Organic real food is my preference for produce.
Harry & David have USDA Certified organic fruit
Frog Hollow Farm is a resource. Their fruit is Certified by CCOF (California Certified Organic Farmers) which is different from USDA Organic Certification.
Seriously, don't you get stuck once in a while not knowing what to give someone as a gift? Or are you planning on attending a holiday meal and don't know what to take as your contribution?? Either plan ahead and order from an online service or grab a basket/fun box and fill with your local grocery store pear varieties.
Storing Pears
Have you ever noticed that whatever you set near your bananas seems to ripen the fastest? This is not in your imagination. Bananas actually give off a chemical that ripes closeby produce.
Pears ripen fairly fast so leaving a couple out on the counter or in a bowl for fast pick-up on the run is a great idea.
Put the rest in the refrigerator so they last longer.
If a pear gets overly ripe, skin and core it and add it to salads. Or add it to homemade salad dressings to sweeten it naturally. You can also use the ripe pear chunks with any cooked dish. It adds another layer of flavor to your meal.
Pear Natural Sugars
During illness, we need to be more careful about how much sugar we are eating, even the natural sugar in pears.
As a health coach, I encourage people to use common sense instead of being legalistic about it.
To eat fruit…
If you are still craving sweets and your choice is to reach for processed sugar, wouldn't it be wiser to grab fruit instead?
If you are in a social or family situation and there is pressure or temptation of processed sugar and you can eat fruit instead, wouldn't that make sense?
If you view fruit as the enemy because of its natural sugar, you are at battle instead of at peace.
…or NOT to eat fruit…
If you are going through a life-threatening time during chronic illness, isn't it worth giving up fruit IF it is making things worse?
If you are doing a parasite cleanse, it makes sense to refrain from ALL sugar because you are just feeding the parasites that you are trying to kill and remove.
You can see, this cannot be a black and white subject. Choose wisely for your particular situation.
If you have chosen to eat fresh fruit while you are chronically ill, there are things you can do to control the sugar spikes.
Eat fruit with healthy fat and/or a healthy protein (coconut milk or nuts)
Add cinnamon to your fruit
For easier digestion during chronic illness, cinnamon and heating fruit will help.
According to ayurveda, when fruits are ripe and eaten in the proper season and climate, they are pure nectar. They immediately turn into rasa (nutritional fluid) — the first of the seven body tissues. Fresh ripe fruit requires practically no digestion and helps to increase ojas, the finest by-product of digestion that enhances immunity, happiness, and strength.

~ vpk® by Maharishi Ayurveda; Super Fruits: An Ayurvedic View on Fruits
Pears In Season
Produce Geek provides fun videos to enlighten us about real food that is in season. I have no affiliation with them, I just think they are doing a good job telling us about what is in season, the different varieties and ways to use seasonal produce.
AFFILIATE DISCLOSURE: In order for me to support my blogging and social media activities, I may receive monetary compensation for links to products from this post. However, I only recommend products that I personally love and use myself. If it is not good enough for me, it certainly is not good enough for you!!