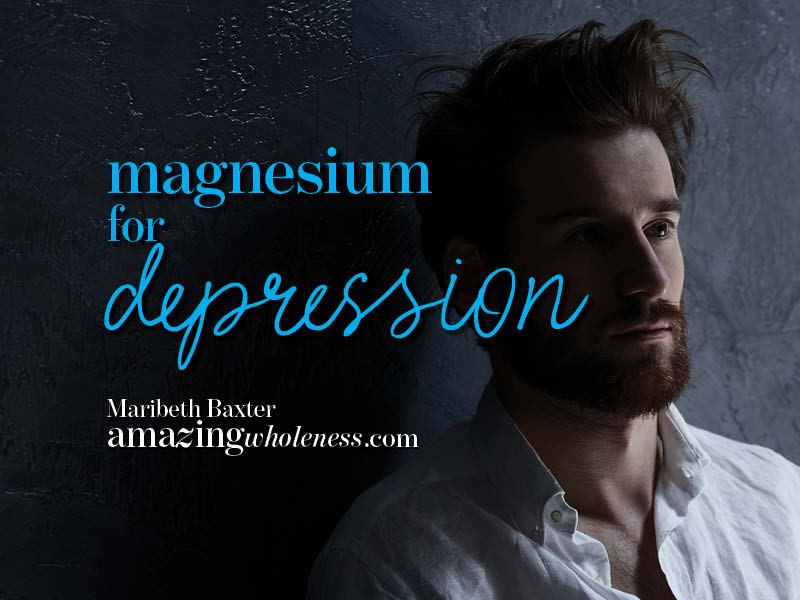 Are you one of the 17.3 million American adults who are depressed? Or one of the 350 million believed affected worldwide with depression? Chances are if you have a chronic illness, you are one of them. May sound too good to be true but magnesium deficiency is so common and it is so inexpensive it can be used for depression.
Depression is one of the most widely diagnosed conditions of our time.
According to National Institutes of Mental Health, an estimated 17.3 million adults had at least one major depressive episode in 2017, which represents 7.1 percent of all adults in the US Prevalence of Major Depressive Episode Among Adults.
Figure 1 shows the past year prevalence of major depressive episode among U.S. adults aged 18 or older in 2017.
An estimated 17.3 million adults in the United States had at least one major depressive episode. This number represented 7.1% of all U.S. adults.
The prevalence of major depressive episode was higher among adult females (8.7%) compared to males (5.3%).
The prevalence of adults with a major depressive episode was highest among individuals aged 18-25 (13.1%).
"Twenty-First Century neuroscience demands that we abandon the oversimplified, outdated and erroneous notion that depression is simply an 'imbalance in brain chemicals' that can be cured with a pill."

~ GreenMedInfo
Magnesium For Depression
Magnesium may be the most important mineral in the body, which is why magnesium deficiency can be such an issue. Magnesium deficiency is more common than depression.
Magnesium helps to regulate calcium, potassium and sodium. It is essential for cellular health and a critical component of over 300 biochemical functions in the body, explaining why it effects depression, espcially in the chronically ill.
Considering all of the important roles that magnesium plays in the body — and the fact that a magnesium deficiency is one of the leading nutrient deficiencies in adults with an estimated 80 percent being deficient in this vital mineral — it's a good idea to consider taking magnesium supplements regularly and eating magnesium rich foods.
In one study, young adults with the lowest intake of magnesium were at a 22 percent greater risk of developing depression.
Magnesium is effective for mild-to-moderate depression in adults. It works quickly and is well tolerated without the need for close monitoring for toxicity.

~ Study, Role of magnesium supplementation in the treatment of depression
There is a staggering amount of research regarding the benefits of magnesium and the need to take magnesium supplements to counteract a deficiency.
A powerful clinical study shows that pennies worth of magnesium a day provides an effective, safe, affordable alternative to dangerous and relatively ineffective pharmaceutical antidepressants.

~ GreenMedInfo, Magnesium Puts Psychiatric Drugs to Shame for Depression
Magnesium Baths
Magnesium chloride is the form that was discussed in the study using magnesium for depression.
Magnesium bath flakes are made from magnesium chloride. Epsom salts are magnesium sulfate. Although both contain a form of magnesium, magnesium chloride is much better suited for topical application.
Magnesium chloride is a type of salt that originally comes from seawater.
Magnesium Chloride – Bath Flakes – soak in 2-4 cups in warm water, gets absorbed through the skin
Magnesium Chloride – Magnesium Oil Spray – spray on, body after shower, gets absorbed through the skin
Magnesium Supplements
There are many forms of magnesium supplements, all serving a slightly different purpose. Some of the most common magnesium supplements include magnesium chelate, citrate, chloride, glycinate, threonate, and orotate.
Magnesium Threonate — has a high level of absorbability/bioavailability since it can penetrate the mitochondrial membrane. Magnesium Threonate is becoming more widely used. This is my favorite.
Keep in mind, for those who wish to take advantage of the side benefit of its stool softening and laxative properties, magnesium citrate or oxide will provide this additional feature.
It's possible to ingest too much magnesium from magnesium supplements, although toxicity is very rare and not thought to be a threat to most people.
If you experience diarrhea or abdominal cramping, you may be taking too much. Follow the instructions on the product you purchase. As a general rule, the proper dose of magnesium is to have no more than 300-400 milligrams at one dose.
Magnesium preparations have an essential place in homeopathy as a remedy for a range of mental health problems. Mechanisms of antidepressant action of magnesium are not fully understood yet. Most probably, magnesium influences several systems associated with development of depression.

~ PubMed NCBI ~ Magnesium in Depression
Magnesium-Rich Foods
Although we most likely will not get enough magnesium from our food, it is the best source. Combining magnesium-rich foods along with magnesium supplements can boost magnesium levels.
Spinach
Swiss Chard
Potatoes
Avocado
Bananas
Broccoli
Brussel Sprouts
Spice, coriander leaf
Yogurt or kefir
I commonly eat a banana and a handful of cashews or almonds at bedtime. They provide a boost of magnesium for the "energy" needed to calmly sleep.
Too much magnesium from food sources alone doesn't pose a risk because any excess magnesium that the body doesn't need is easily flushed out in the urine.
Root Cause of Depression
Until you address the cause of your depression, you are not going to realize the cure. Keep searching for your root cause of depression.
Remember, parasites are prevalent everywhere and may be a root cause of depression.
Also, Adverse Childhood Experiences (ACE's) are equally as prevalent for depression. Traumatic life experiences (especially in childhood) can be the cause of depression and disease.
And of course, chronic stress plays a tremendous role in depression.
Dig Deeper, Learn More
AFFILIATE DISCLOSURE: In order for me to support my blogging and social media activities, I may receive monetary compensation for links to products from this post. However, I only recommend products that I personally love and use myself. If it is not good enough for me, it certainly is not good enough for you!!
HEALTH COACH DISCLAIMER: Health/Wellness coaching is not intended to diagnose, treat, prevent or cure any disease or condition. It is not intended to substitute for the advice, treatment and/or diagnosis of a qualified licensed professional. Trained and certified Health Coaches may not make any medical diagnoses, claims and/or substitute for your personal physician's care. As your health/wellness coach I do not provide a second opinion or in any way attempt to alter the treatment plans or therapeutic goals/recommendations of your personal physician. It is my role to partner with you to provide ongoing support and accountability as you create an action plan to meet and maintain your health goals.