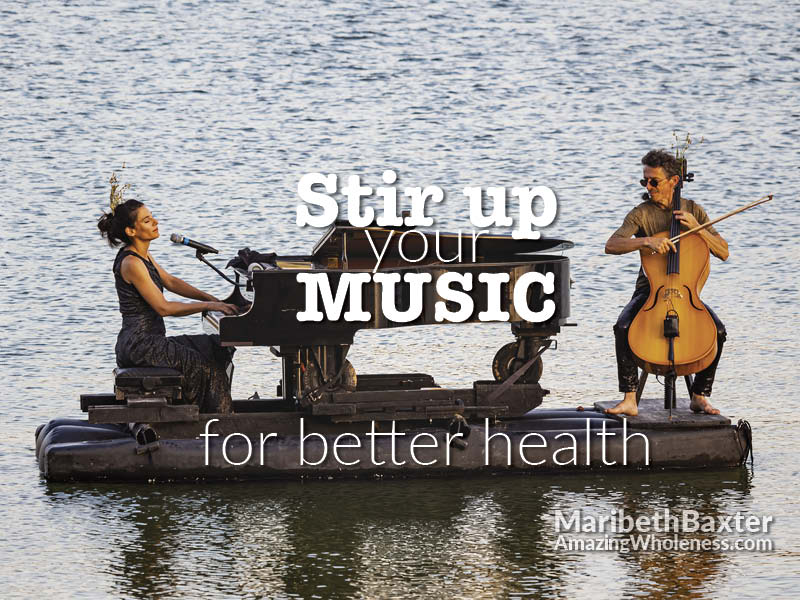 We get stuck in our boxes, our comfort zones, and we miss out on music that lifts our spirits right out of chronic illness intensity. Stir up your personal music box to gain better health.
I love all kinds of music but I get stuck inside the same-old same-old at times. I tend to tune it out because I am overly familiar with it. To lift my spirits, I need to connect with music and lyrics daily. I have watched how it helps me move through a healing journey instead of getting stuck.
Those ruts we get in our brains have got to get changed, re-routed. A really fun way to work on our brains and thoughts, is to connect more with different kinds of music.
A big part of my health-coaching is about getting out of our heads so that we can make room for the flow of life and find a more peaceful place which creates better health. Music is one of the best tools I know.
New Music Boxes
These pictures are from Vilanova de Sau, Catalonia, Spain – July 2019: Concert with a pianist, a singer and a violinist floating on a platform in the middle of the Sau reservoir.
I just absolutely get a thrill out of things like this. It helps me get out of my own head. It helps me feel life and its possibilities.
There is so much out there that we can enjoy and explore and get out of our boxes, get out of our comfort zones.
Music and songwriting have always been part of human culture and have always evolved. We keep going back to some old ways and creating new ways to enjoy music.
So, what is going on now? The answer is as big as our planet. There are always new things to listen to and try.
Here is something new, to me. Mason Jar Music by Josh Carrels. This was SO much fun to watch and connect with. Musical instruments I have never seen. Places I would never think of for concerts. People with big hearts and great talent.
Indie-music genius Josh Garrels takes his wife & young children on the trip of a lifetime, creating gorgeous music along the way. "Jaw dropping… a postcard with a soundtrack" raves Village Voice. "A captivating tale behind the art of music"

~ Amazon | Movie, The Sea In Between
Recently someone sent me these two songs. I have never heard them or heard of them. I had no back story or even an assumption about them. I just simply listened with no expectation of any kind. Didn't read more into it then where my mind and heart took me. Didn't even look into the original intent or story of the writers of the songs. Either I was going to like them, or not. I liked both!!
Both songs took me out of my music box and both lifted my spirits and made for a better day.
asdfasdfasdf
AFFILIATE DISCLOSURE: In order for me to support my blogging and social media activities, I may receive monetary compensation for links to products from this post. However, I only recommend products that I personally love and use myself. If it is not good enough for me, it certainly is not good enough for you!!