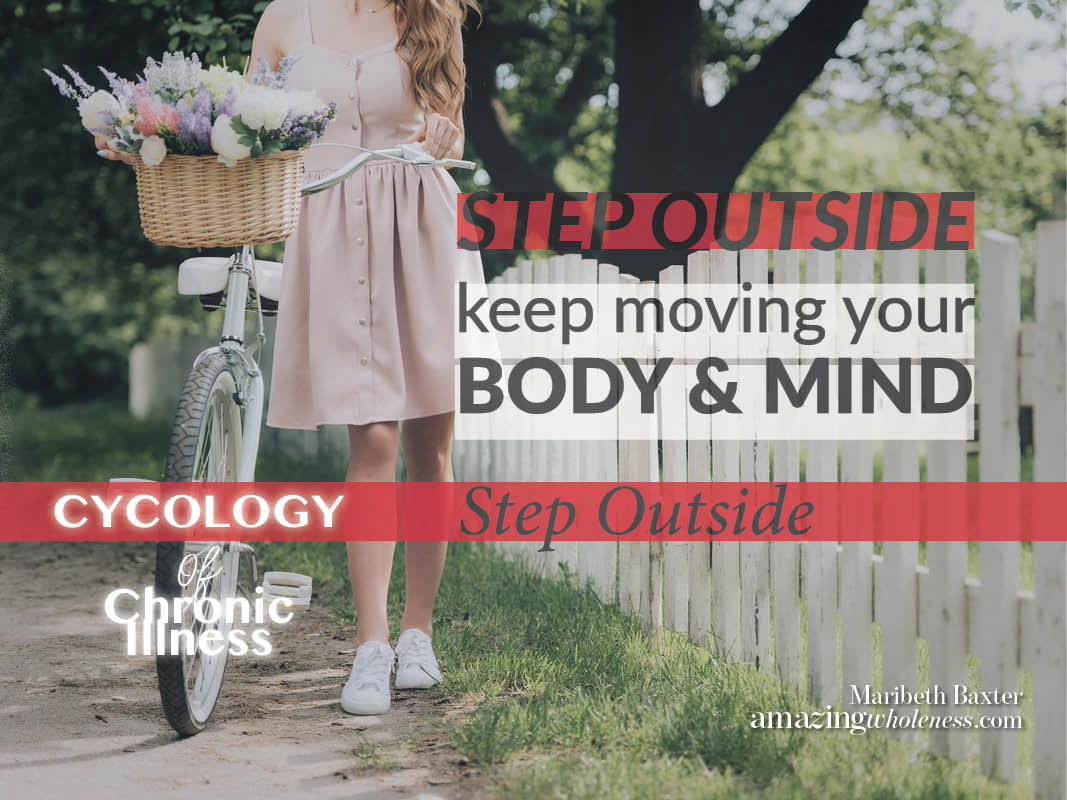 Taking a step outside changes our perspective on EVERYTHING. Even if your poor body can only make it to the front door, take ONE step outside and see what happens.
I vividly remember the days (okay months, well truthfully almost 3 years!!) that I could not even make it to the front door. It was awful. It was frustrating. It was beyond miserable. Sometimes we just have to accept that we cannot take even one step outside.
Unless it truly is impossible to physically move your body to the front door, take ONE step outside.
If your body can move you farther, keep moving. Sit outside on your front porch or balcony.
If your body can even do better than that, keep moving. Go take a walk. Keep it short if you need to but even a 5-minute walk can change your perspective on everything.
Feel the breeze on your skin. Breath in the fresh air. Smell the aroma of your outside space. Soak in any sunshine that you can. Take it all in.
Breath OUT the yuck-and-muck of chronic illness, there is plenty of that to let go of.
Let the breeze blow away as much of the darkness as you can, making room for the sunshine.
Your mind might only get one moment of relief, but that is one extra moment more than if you did not step outside!!!!
Step outside for a while – calm your mind. It is better to hug a tree than to bang your head against a wall continually

~ Rasheed Ogunlaru
HEALTH COACH DISCLAIMER: Health/Wellness coaching is not intended to diagnose, treat, prevent or cure any disease or condition. It is not intended to substitute for the advice, treatment and/or diagnosis of a qualified licensed professional. Trained and certified Health Coaches may not make any medical diagnoses, claims and/or substitute for your personal physician's care. As your health/wellness coach I do not provide a second opinion or in any way attempt to alter the treatment plans or therapeutic goals/recommendations of your personal physician. It is my role to partner with you to provide ongoing support and accountability as you create an action plan to meet and maintain your health goals.