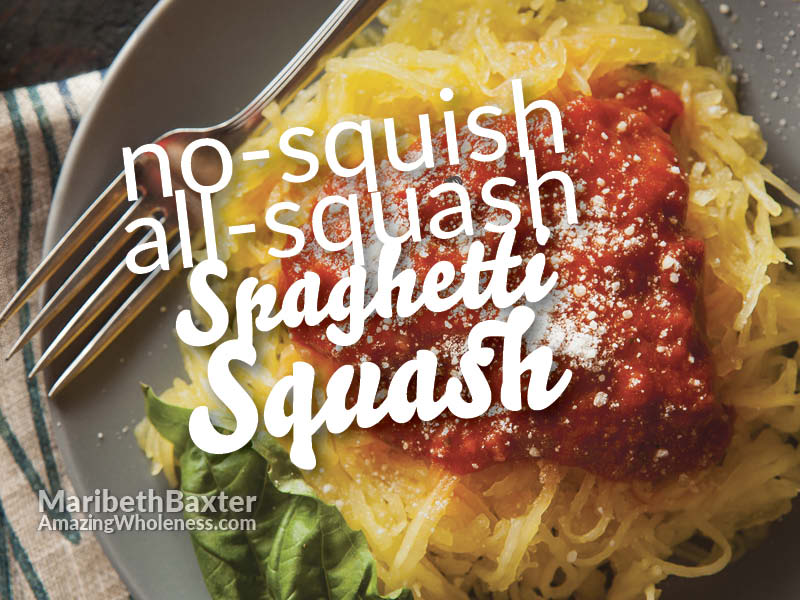 Spaghetti squash is anything but squishy and it certainly is not green. You don't even have to know how to cook to make this one. Out of excuses not to try it!!! Naturally gluten-free, spaghetti squash is the "pasta" to my spaghetti.
Autumn comes with its abundance of squashes. Some are squishy and not my cup of tea. But spaghetti squash (when not overcooked) actually looks and almost tastes pasta ISH…
Spaghetti squash is inexpensive and so easy to make that I encourage everyone to try it at least once. Chances are you will get hooked.
Your local produce aisle or your farmer's market will have them during the Autumn season. There are many in-season squashes so look on the label if you are not sure which one is which. Spaghetti squash is the only one that creates long stringy "pasta" so make sure it is the correct kind of squash.
They are easy and fun to grow, even if you don't have a green thumb.
Way Too Easy
You will laugh at how easy this is.
Cut the squash in half, lengthwise.
Use a large sharp knife for easy cutting.
Scrape and scoop out seeds and flesh from the middle, using a large spoon.
Discard those or use them for compost or dry them for your garden seeds for next year.
Brush oil on the inside surfaces to prevent any burning.
Personally — I skip this step. Shhhh, don't tell anyone how easily I prepare my meals.
Place cut side down in a oiled glass or ceramic oven dish. Tip – really doesn't matter which side up or down.
I cheat and place a tablespoon of grass-fed butter under them and that's it. It melts and covers the pan.
Bake on 300 degrees for 45 minutes. Larger squashes take more time, smaller takes less time.
My toaster-oven is perfect for this so that I don't have to heat up the large oven.
Take a fork and check it after 30 minutes.
If the flesh pulls out easily then it is done. If not, bake 15 more minutes and try again.
Key To NO-Squish Squash
Don't OVER cook it. That's all. That simple. By checking it every 15 minutes, you won't overcook it.
Use it under your favorite pasta sauce.
Spaghetti squash is actually sweet. So you could sprinkle it with cinnamon and eat just like that. Yum!!
You can add it as a side dish or use it under a spoonful of chili. Yep, I said chili.
It just does not get any easier than this.
Eating well, eating naturally, eating with health in mind, eating whole real food can be easy, fun and full of taste.
Don't make food the enemy, make it your friend. We all need it for survival so we might as well make it fun.