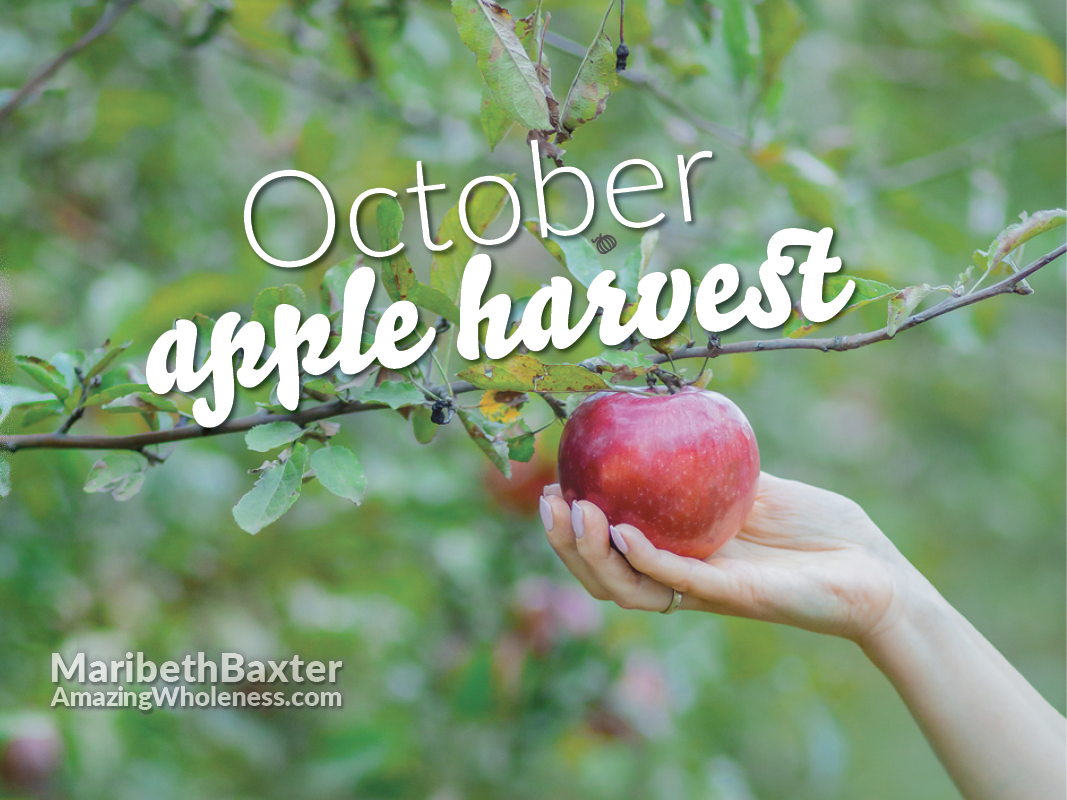 It's time to get outside, enjoy the crisp air and picking apples. If chronic illness won't allow for the picking experience, then you can "pick" different varieties from your local grocery. Either way, it is time!! I will show you how you can be ill and go apple picking if you want the adventure…
Apple Harvesting
Apples, oh my. If I could only pick one single food it would be the apple. I love apples. And the memories of apple picking with my young children at the local apple orchard, double ohhhh my what fun!!!
Ok, so you are chronically ill and not able to walk around the orchards. What about a chair??? Grab your gang, a chair, and a willing attitude to try this.
Your sole job is to make the ride to the orchard and sit in the chair while everyone else brings you the harvest. That way you are enjoying the fresh air, the company, and laughter but you are sitting down where you might belong.
Seasonal Fruit During Chronic Illness
I already know that I do not have the willpower to pass up seasonal apples.
The only time I forced myself to abstain was the one year I went with absolutely no fruit (and no other sugars) to help me overcome death's door. There are times to go to that extreme. Other than that, a little fresh fruit has been part of my healthy diet for sweetness and nourishment.
Many who are chronically ill have realized that all processed sugars must go. This can be a very difficult thing to accomplish. Using the sweetness of fresh season fruit keeps us satisfied and not reaching for other sugars.
Apples Natural Sugar & Digestion
Apples do contain natural sugar. During illness I have had to find ways around that one. There are ways!!!
First, I don't eat as many to control how much natural sugar I am receiving.
Second, I purchase weekly the amount I have permitted myself to eat, for that week. If I eat them too fast, the rest of the week I don't eat any. Then I start over again the following week.
Third, when the apples are extra large, I cut it in half and only use a half at a time. They store well for 24 hours cut in half.
Forth, I use cinnamon or pumpkin spice to help with the sugar spikes (and it aids digestion).
Fifth, for digestion I peel and heat apples, especially during chronic illness. The peels are harder to digest. Sauteed or baked apples are far easier to digest than raw.
Apple Nourishment
In the chronic illness space, fruit has become the enemy to many. Making real food an ongoing war can work against us instead of for us.
Instead, I suggest receiving the abundance of nourishment we can find in seasonal fruit, in moderation.
Apples are real food chaulked full of real nutrients. Therefore an apple a day to keep the doctor away is an accurate cliche'.
comfort food for some – great nourishment in "comfort foods"
high in fiber
phytochemicals
antioxidants

quercetin
catechin
phloridzin
chlorogenic acid

pectin
Vitamin C
Potassium
Vitamin K
Vitamin B6
Manganese
smaller amounts; vitamin A, vitamin E, niacin, folate, pantothenic acid, choline, betaine, calcium, iron, magnesium, and phosphorus
In the laboratory, apples have been found to have very strong antioxidant activity, inhibit cancer cell proliferation, decrease lipid oxidation, and lower cholesterol.

~ NCBI, Apple phytochemicals and their health benefits
Apple Varieties
Autumn, during apple season is the best time to taste test the many apple varieties. Local farmer's markets will have the freshest!!
The top 10 varieties apples PRODUCED in the U.S. are Gala, Red Delicious, Granny Smith, Fuji, Honeycrisp, Golden Delicious, McIntosh, Rome, Cripps Pink/Pink Lady®, Empire. Most are red, some yellow, some green.
The top 10 apple varieties SOLD in the U.S. are Gala, Red Delicious, Fuji, Granny Smith, Honeycrisp, Golden Delicious, McIntosh, Cripp's Pink/Pink Lady®, Braeburn, Jazz®.
My all-time favorite is the Honeycrisp, warmed with pumpkin spice. It tastes like an apple pie. You can even add some walnuts to the mix. It is the perfect healthy pie:
flour-free so it is gluten-free
sugar-free because it already has more than enough natural sugar.
Find more apple facts ~ U.S. Apple Industry
Apple Trees
Apple trees are beautiful. During the Springtime they bloom with aromatic flowers. The bees do their thing… which is actually for the benefit of us! Then they slowly develop into the apple bud which turns into the delights we find at the grocery store.
The Fall (Autumn) is also a time to plant fruit trees in many areas. This provides a great opportunity to grow them organically which is best for your health.
Planting a tree is a very rewarding experience. Not only are we contributing to future generations, we have something right in front of us that is growing and providing nourishment for our well being. It represents movement instead of stagnation.
Keep moving your way through chronic illness with the abundance of opportunity and nourishment provided by the seasons.