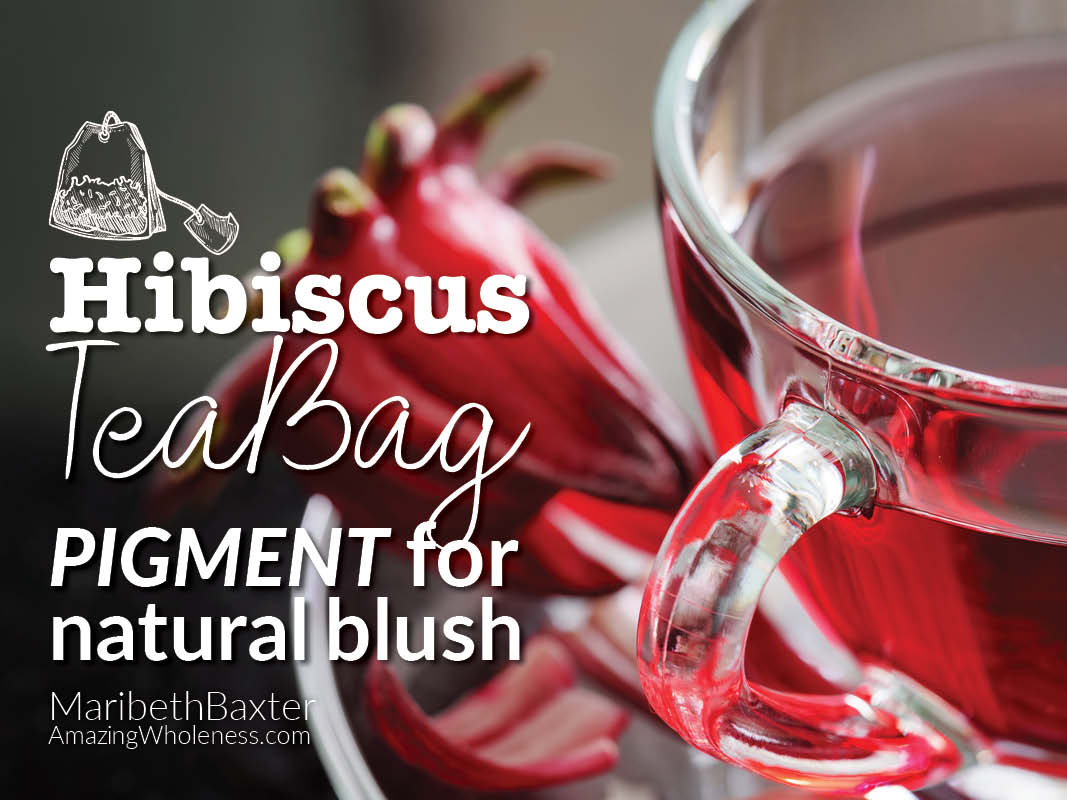 Hibiscus flowers have such a strong pigment that you can use the tea bags as a blush for your cheeks to make them look sun-kissed. This is a perfect idea for the months (and years) of chronic illness when we wear so little make-up but want to look like we are still amongst the living.
Hibiscus Flower
The flowers are used to make a sweet caffeine-free tea and what carries the rich pigment we can use for a natural blush.
Natural Blush – Hibiscus Tea Bag
In the morning, make your hibiscus tea. This is a naturally caffeine-free tea. Sip and relax. And don't forget to SAVE the tea bag!!
Then, when you are ready, get up and wash your face with a gentle cleanser and let your face dry.
Then start dabbing the tea bag on your cheeks. The pigment is so strong that it immediately adds color to your cheeks. You control how much "color" you apply. Gently rub into your cheeks so you don't have any lines from the color.
Wow, is all I can say before I tell you the tips and hints. Natural color that livens up a sick person. Even healthy people can do this but this is a chronic illness blog!!!!!!
HINT #1
Dab the hibiscus tea bag on your lips as well.
HINT #2
Freeze the hibiscus tea bags after making tea so you have them when you want them. When they are just slightly thawed, apply to cheeks and you will receive the additional benefit of stimulation to your skin.
HINT #3
Use tea bags that have not been bleached. You are putting them on your face!!
I personally buy hibiscus tea bags in bulk because I drink so much of it, always certified organic.
Skin Tips During Illness
Illness is a great time to let your skin breath. Let go of wearing make-up, except the days you feel you must. Your skin will appreciate it.
Remember, your skin is the largest organ you have and it also absorbs toxins from the products you use. Your skin is also a DETOX PATHWAY, allowing toxins out of your body. So — good stuff in, bad stuff out, through the skin!!
Absorbing hibiscus tea is naturally good for your skin.
It may reduce age spots
Purifies the skin
Helps break down dead skin cells, renewing new skin
Calms acne breakouts
Encourages fresher, brighter skin
You are beautiful because you are YOU. Illness is quite the opportunity to get in touch with how you feel about your looks. I know, our looks go downhill during illness before they take a turn uphill during healing. That is the opportunity right there. How you feel about you, today, not tomorrow.
May you see the beauty I see in all of you who are on a healing journey!!!
AFFILIATE DISCLOSURE: In order for me to support my blogging and social media activities, I may receive monetary compensation for links to products from this post. However, I only recommend products that I personally love and use myself. If it is not good enough for me, it certainly is not good enough for you!!
HEALTH COACH DISCLAIMER: Health/Wellness coaching is not intended to diagnose, treat, prevent or cure any disease or condition. It is not intended to substitute for the advice, treatment and/or diagnosis of a qualified licensed professional. Trained and certified Health Coaches may not make any medical diagnoses, claims and/or substitute for your personal physician's care. As your health/wellness coach I do not provide a second opinion or in any way attempt to alter the treatment plans or therapeutic goals/recommendations of your personal physician. It is my role to partner with you to provide ongoing support and accountability as you create an action plan to meet and maintain your health goals.