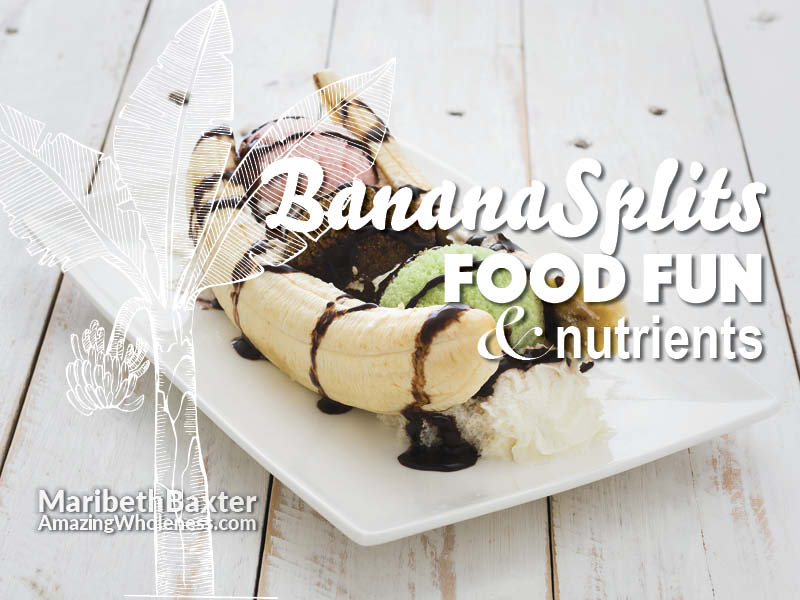 Banana splits do not have to be junk food. We can make them with organic bananas and healthy ice cream. We can even add our own healthy chocolate syrup to it, with cherries on top while keeping it healthy and nourishing.
Start With Bananas
Real food matters. We get real nutrients and the best tasting food when it is real. Bananas are real food with real benefits…
Affordable Snack
Boosts Energy
Source of Manganese
Loaded with Potassium
Improves Digestive Health
Enhances Mood
Easy and Healthy Snack
Promotes Weight Loss
Improves Kidney Function
Supports Heart Health
Many grocery stores are now carrying organic bananas. They are very inexpensive and easy to peel and eat.
Buy them with just a little green to them and they will have more nutrients, less mold, and last a few days longer on your countertop.
Ice Cream, Healthy Version
If you are dairy-free, use coconut milk and cream to make your ice cream. Soaked cashews is another creamy option.
If you are sugar-free, use stevia, honey or bananas in your ice cream for sweetness.
For color, use real food…
Make your own ice cream without any fancy equipment. Any high-speed blender will work for this base recipe. My Vitamix Blender has lasted over a decade and still running strong!!!!
Ingredients
Directions
In a high speed blender, blend all ingredients except the cashews until creamy
Add water as needed to keep the mixture circulating through the blender
Once mixed well, add the drained cashews and blend till smooth and whipped
Transfer mixture to a glass container and chill in the fridge until desired consistency
Drizzle Chocolate Syrup, Healthy Version
So simple to make your own chocolate syrup so that you are keeping to your healthy and fun diet.
Ingredients
Directions
Warm coconut milk in a saucepan over medium heat
Break chocolate bar into pieces and stir into coconut milk
Add stevia until desired sweetness is achieved
Top With Cherries
REAL cherries are real food with big bang taste and nutrients and fun all condensed into each bite we take.
Add real cherries on top of your banana splits.
Banana Boats
Use what you have; any plate or bowl will do.
Use old-fashioned ice cream glassware…
AFFILIATE DISCLOSURE: In order for me to support my blogging and social media activities, I may receive monetary compensation for links to products from this post. However, I only recommend products that I personally love and use myself. If it is not good enough for me, it certainly is not good enough for you!!