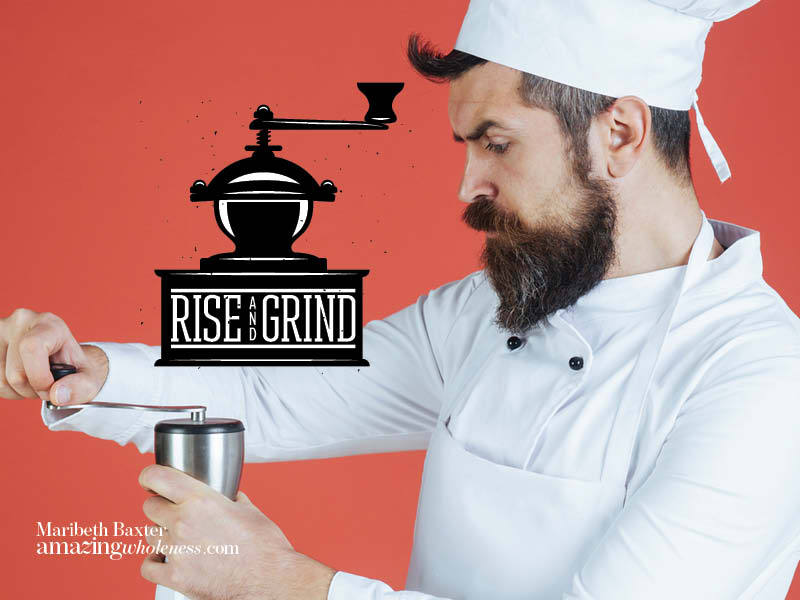 Might as well put a twist and turn into your morning coffee by grinding it yourself. Freshly ground coffee has health benefits that are worth the extra 10 seconds it takes to do the grinding. It gets us off to a better day…
There are pros and cons to everything, yes, even coffee. Determine for yourself if you "should" be a coffee drinker.
If you are a coffee drinker, you might as well get the most out of it.
Health Benefits of FRESH Coffee
Keep it simple: When it is fresh, we get the most nutrients out of it. When it has been ground, sat around, it has lost many of the health benefits from nutrients.
Nutrients like antioxidants, vitamin B2 riboflavin, pantothenic acid, potassium, manganese, magnesium, niacin
Health benefits for brain, heart and liver
You'll want to purchase whole bean coffee that smells and tastes fresh, not stale. If your coffee does not have a pleasant aroma, it is likely rancid. Grind it yourself to prevent rancidity as pre-ground coffee may be rancid by the time you get it home.
Coffee Grinders
Fresh coffee from organic, whole beans that are pesticide-free and mold-free can help keep your brain and muscle tissue young. Adding commercial sugar, milk or creamer will tend to diminish the value you receive from coffee
Replace the water your body is expelling from the detox benefits of coffee. This will prevent you from getting dehydrated.
Recent research published in the Annals of Internal Medicine suggests that having three cups of coffee per day could lengthen lifespan by lowering the risk of death from several key conditions including heart disease.
3 cups is not 3 pots. A cup equals 8 ounces, so we are really talking about one large cup of coffee at 24 ounces.
Dig Deeper – Learn More
AFFILIATE DISCLOSURE: In order for me to support my blogging and social media activities, I may receive monetary compensation for links to products from this post. However, I only recommend products that I personally love and use myself. If it is not good enough for me, it certainly is not good enough for you!!
HEALTH COACH DISCLAIMER: Health/Wellness coaching is not intended to diagnose, treat, prevent or cure any disease or condition. It is not intended to substitute for the advice, treatment and/or diagnosis of a qualified licensed professional. Trained and certified Health Coaches may not make any medical diagnoses, claims and/or substitute for your personal physician's care. As your health/wellness coach I do not provide a second opinion or in any way attempt to alter the treatment plans or therapeutic goals/recommendations of your personal physician. It is my role to partner with you to provide ongoing support and accountability as you create an action plan to meet and maintain your health goals.