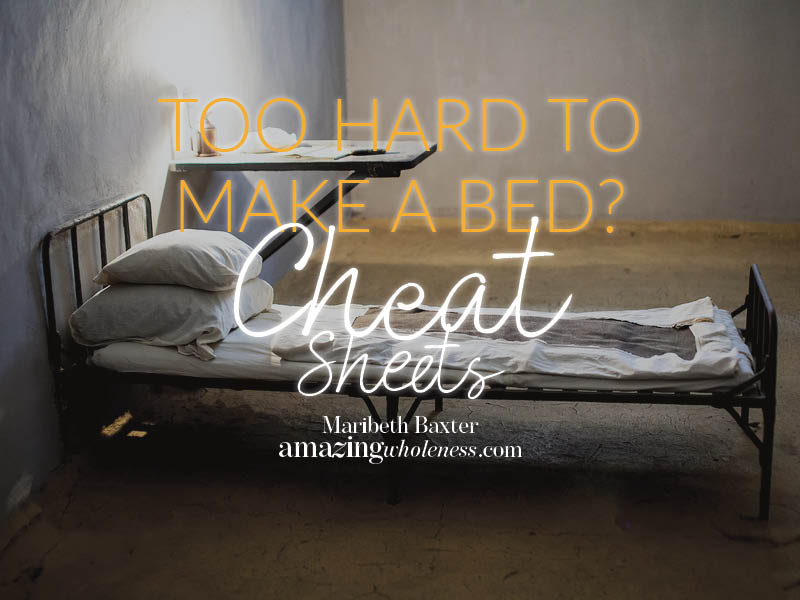 We can get so ill that we feel imprisoned in our own bedrooms and stuck in the yuck of our sheets. How in the world do we make our own beds when we are in them all the time and we don't have the energy or the strength to make them? We cheat the sheets! Chronic illness can keep us from doing a lot of things but there are usually ways around the necessities of life, like clean sheets.
Come on, we can do this!!!
When we climb into fresh sheets we just feel better about life. We feel encouraged to hang in there another day of this nutty wild ride of chronic illness. THAT is finding success!!
Through the decades of illness, I had a couple years when I was so ill that I could not even begin to make my own bed, was not an option.
My hands were so swollen and constantly throbbed in pain. I could not do the laundry much less make a bed.
Whoooohoooo, I am past that!! Yet, I still have some limitations and making my own bed is one of them unless I cheat.
I hear from most of you that you agree bed making is a huge big deal. It is a difficult chore while we are ill.
We are all at different places with our limitations. Find your own way of cheating, just make it happen so you have clean sheets.
I remember the times when I had to just lay down between two flat sheets and try not to wiggle through the night. Hint – it doesn't work.
There are no easy solutions when we have to do things on our own, but we sure can try… we can cheat!!
Find success in your day by doing what it takes. I know some days are beyond awful. You are not alone in this journey of chronic illness.
Find more success with Cheat Sheets Directions.