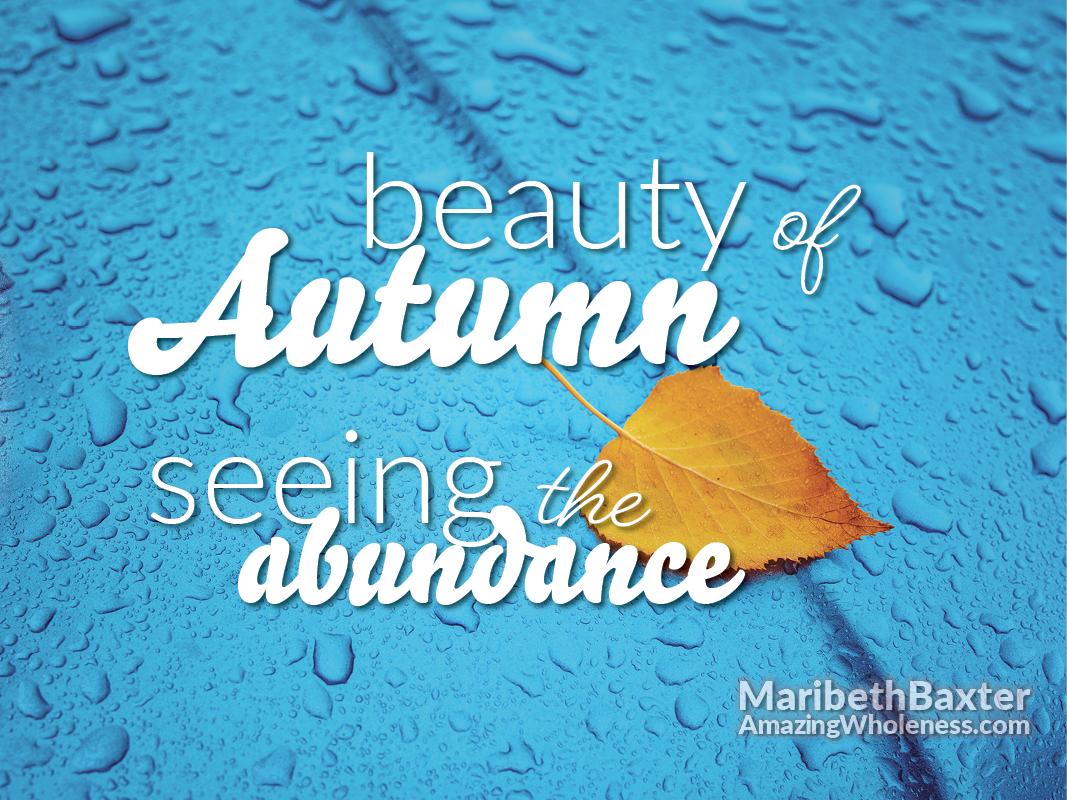 Many of you have the season of Autumn in full force. The leaves have turned color and they are falling on the cooler days and nights. For those of us who like the cooler weather to chill the fire of illness, we are provided a season to get outside and breathe in the crisp nourishment of Autumn. Can we see the abundance in the magnificent colors, the cool winds, and the plentiful foods? Don't let the change of season slip by just because of chronic illness.
Living in Texas, this year there STILL has not been a day under 90 degrees. So I am enjoying my memories of Autumn and looking forward to the arrival in my area. Surely it has to arrive in the next few days.
The day-to-day grind of illness is dull and mundane and it can appear that nothing is changing. Seasons may be one of the few sources of change that we can take note of. Taking notice of the changing seasons can raise spirits, restore precious memories, and open up the possibilities for hope.
Autumn is my favorite season. I have glorious memories of driving the majestic roads of New England during the Fall. Even the memories will do for now. I can feel the cool wind helping to rise me above any current circumstances. Even the colors of Fall give me a new vision of how brilliant BROWN can be. Nothing boring about it. It always makes me smile.
Now that I live in Texas instead of New England, sitting on my porch and taking walks can finally start happening again for me when Autumn arrives. I also take country drives to soak it all in. The abundance of Autumn glory reminds me to…
grab an umbrella so I can dance in the rain
change my clothing, love the snugs and hugs of scarfs
change my food, enjoy the warmth of soups and spices
and change my mood accordingly, embrace adjustment and adaptation
Autumn Food
Have you already been changing your food with the seasons? If not, ponder the idea and head to your local farmer's market or organic produce isle and explore the latests arrivals.
During this time, it is important to balance foods and fluids that promote warmth, moisture, and grounding, namely those that are sweet, heavy, oily, spiced, or salty.
Recommended Autumn foods:
Fruits

Banana, avocado
Cooked apples or pears; crisps, or apple sauces
Apple butter or pumpkin butter
Tomatoes
Citrus, including oranges and grapefruit

Vegetables:

Vegetables should be steamed; avoid raw vegetables during this season
Spaghetti or acorn squash, sweet potatoes, potatoes, yams, turnips, pumpkin

Grains:
Nuts

Most whole raw nuts, nut butters such as almond or walnut butter

Fats/Oils

Grass-fed ghee or butter, olive oil

Spices

Focus on warming spices such as cardamom, cinnamon, ginger, nutmeg, and cloves

Warm fluids, such as ginger, lemongrass, or mint tea

Fluids should be consumed at room temperature or warmer. Avoid cool fluids, which slow an already sluggish digestive system

Proteins

Animal meat or jerky
Fish
Eggs
Lentils
Mung beans
Beans are an important dietary staple, especially in many vegetarian or vegan diets. If you are consuming beans, try rinsing them well and soaking/cooking for an extended amount of time. Season well with warming spices.
Pumpkin Pie Spice
I can smell it just by saying it. My mouth starts to water and even at 90 degrees here in Texas today. I am lavishing Autumn through my food.
Recipe — Pumpkin Pie Spice and Everything Nice
I actually make my own because it is so easy. For some odd reason, it is not always easy to find at the grocery store. If you just want to quickly buy some, go here pumpkin pie spice.
I use it in abundance during the autumn season so that I get my fill of it in every way imaginable.
Go here for my recipe to quickly make it yourself.
Tasty Fun Autumn Coffee…
Yes, I drink coffee FOR my health. There are significant adrenal reasons to stop drinking coffee and there are reasons to start drinking organic mold-free coffee. Everyone is different and everyone can use their own brains to learn about both sides of the coffee or no-coffee arguments to find your own personal solution. I presented both sides of the controversy; Wake Up to Coffee Mania
In a blender, mix your coffee, and any or all of the following…
Add some pumpkin pie spice to your coffee (dribble of organic vanilla is really good with this as well)
Add a few tablespoons of organic pumpkin puree to your coffee as well (use fresh if you have it)
Add star anise for extra fun with spice
What abundance do you see in Autumn?
Enjoy it and be nourished by it!!
AFFILIATE DISCLOSURE: In order for me to support my blogging and social media activities, I may receive monetary compensation for links to products from this post. However, I only recommend products that I personally love and use myself. If it is not good enough for me, it certainly is not good enough for you!!