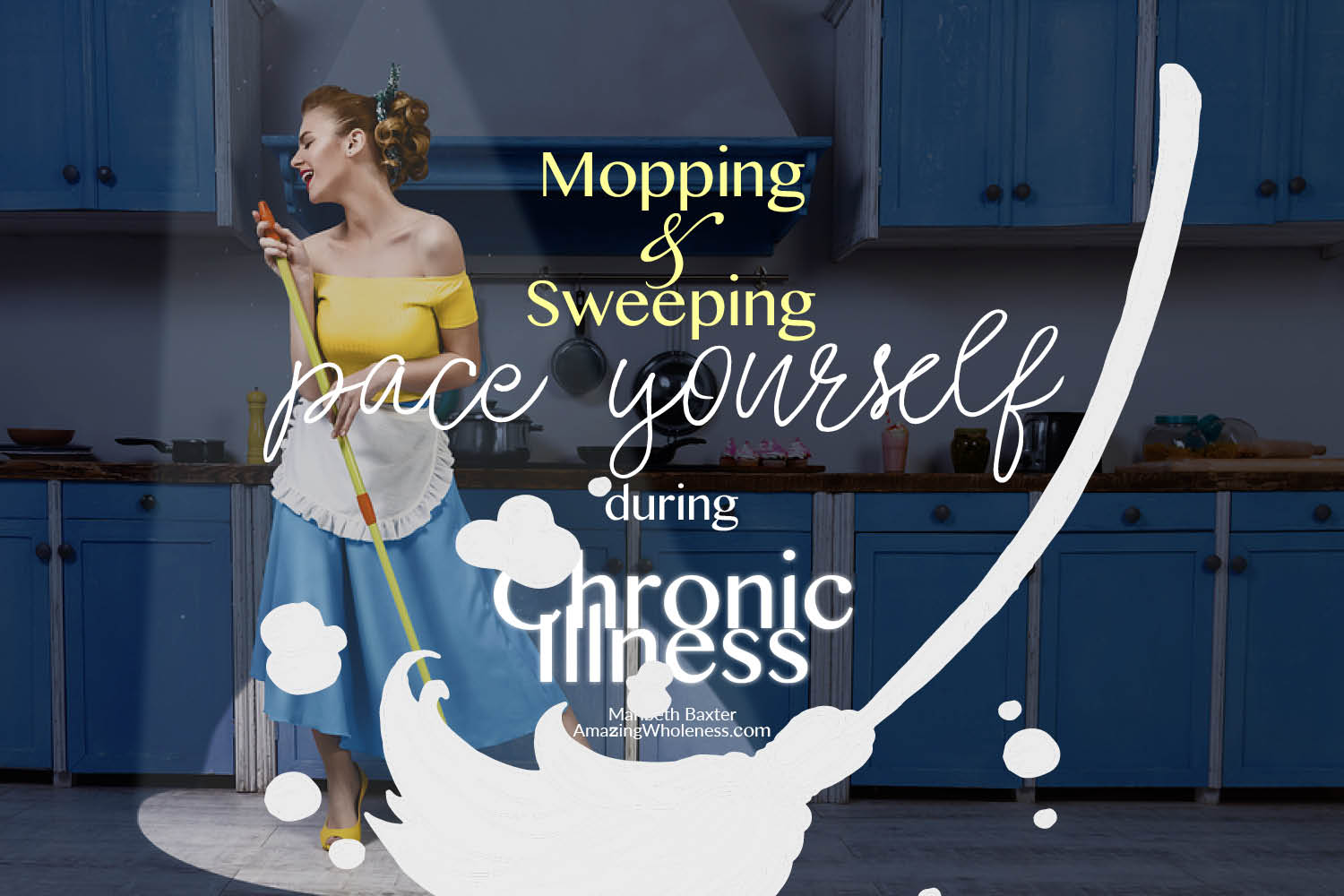 Yep, we have a unique way of sweeping and mopping when we are chronically ill. We can only do the best we can do which usually is not as thorough but it gets it done. The easiest way I know how to keep my floors clean is pace myself and using the easiest tools I can.
Just standing up most days is a challenge and you want me to clean the floors. You have got to be kidding me!
Someone has to do it. If there are no volunteers, we're up.
Let's make this as doable as possible.
The least bending and lifting makes it a little bit easier. I know, not much but we have got to get the housework done.
When our houses are relatively clean, we heal better. Not only does a clean house spread fewer germs but it also provides a sense of order and calm. The more yuck-and-muck we have around the house, the more we feel yuck!!
Sweeping
Whoever invented the Swiffer, bless you!!!
I cannot bend to hold a dust pan and sweep into it, not possible.
I keep my Swiffer top-side-up in my laundry room so that when I grab it, it is ready for me to stick the disposable pad on it with NO bending.
Swiffers hardly weigh anything at all so I don't have any lifting issues. My hands are usually numb so I have some dropping issues but I don't think the Swiffer company can help with that one!!
I start swiffing at my laundry room and work my way to the opposite end of the house where there is a trash can. When I get through the whole house, I stand at the trash can, flip the Swiffer up so that I can take off the dirty pad and trash it. Done!!!
When I know I won't be mopping for a while, I use my handy dandy household Thieves Spray on the swiffer pad. Kind-of-sort-of spreads a little natural disinfectant around the floors.
Mopping
Mopping is so much harder but just has to be done on occasion.
Bending and lifting is SO hard when we are ill. There is a solution…
About 7 years ago I purchased the Hurricane Mop and it has saved me from dirty floors.
It has a foot pedal so that there is no bending.
I swish the mop in the hot sudsy water in the Hurricane bucket then place it in the spinner in the bucket. Then with my foot, I spin the excess water out of the mop without bending or lifting. Have to look at the pictures to understand this one.
Absolutely remarkable how much work has been taken out of mopping.
They even have a trolley to place the bucket on so that you don't have to lift it. It can be rolled through the house while you go room to room.
Even if you only get one room mopped at a time, do it!!! Then do another room another day, and on and on. That is how I had to do it for a few years.
Pace yourself to get your house clean within your limitations.
No Chemicals
While we are ill, it is a good time to replace ALL chemical household products with natural cleaning products.
The chemicals are endocrine disruptors (create hormonal imbalance) keeping us ill.
I make this as easy and affordable as possible. Instead of replacing each product with a different product, I use a base ingredient for all of my healthy cleaning replacements.
I use Thieves Household Cleaner in a spray bottle, filled up with water. It is all-natural (with Essential Oils) which makes it safe (chemical-free) and it cleans like nothing I have ever used before. One capful in the water, that's all. It is SO economical it is nuts. Buy ONE single bottle to replace all cleaning products (even laundry detergent) and it lasts for many months. Mine lasts for almost 6 months, replacing ALL cleaning products in my home. I use it for ALL of my cleaning: kitchen, bathroom, laundry, countertops, glass, rugs & carpet, etc. Wood polisher = pure oil plus one capful of Thieves Household Cleaner.
Young Living Thieves 64 ounces – Amazon Link
Young Living Theives 14.4 ounces – Amazon Link
Contact me to purchase a bottle of concentrate Thieves Household Cleaner $28.95
CODE 2880646
Becoming a "member" allows you to receive additional discounts. When filling out the form, please use CODE 2880646 when it asks you for "Sponsor" or "Enroller" ID number.
AFFILIATE DISCLOSURE: In order for me to support my blogging and social media activities, I may receive monetary compensation for links to products from this post. However, I only recommend products that I personally love and use myself. If it is not good enough for me, it certainly is not good enough for you!!
HEALTH COACH DISCLAIMER: Health/Wellness coaching is not intended to diagnose, treat, prevent or cure any disease or condition. It is not intended to substitute for the advice, treatment and/or diagnosis of a qualified licensed professional. Trained and certified Health Coaches may not make any medical diagnoses, claims and/or substitute for your personal physician's care. As your health/wellness coach I do not provide a second opinion or in any way attempt to alter the treatment plans or therapeutic goals/recommendations of your personal physician. It is my role to partner with you to provide ongoing support and accountability as you create an action plan to meet and maintain your health goals.