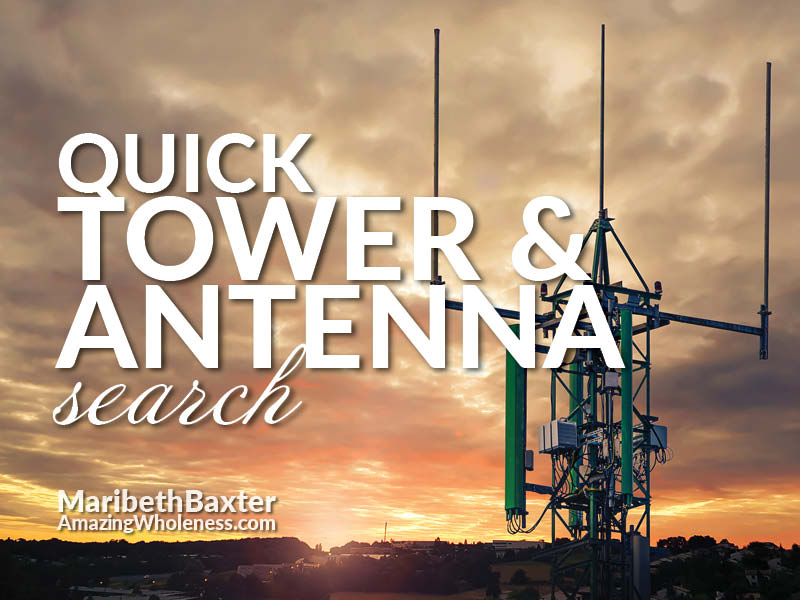 Would you do a quick search if it took you less than 1 minute to identify where the cellular towers AND antennas are located near your specific address? I was shocked at the comprehensive info I received using this free quick search tool. Seriously, it took less than 60 seconds. Time yourself…
My ramblings take too long so let's keep this simple.
Get out a stopwatch and time yourself. It takes one minute to do this.
You are going to click on this link, type in the exact address you are wanting information for, click GO, then you are going to see links for both towers AND antennas. In the 60 seconds, you even have time to click on both of them and download the results and view it.
You will notice that this tool is updated regularly.
Come on. This is good info to know. Since our health is affected by towers and antennas, it is good info to know.
This is what you are going to see and do…
1) Click on the link – this is what you will see…
2) Fill in the address, city, state, and the zip if you have it = HIT GO, this is what you will see…
3) Don't get confused – HIT PROCESS – and this is what you will see…
4) CLICK for results = Click on VIEW for both TOWER and ANTENNA. This is what you will see along with a map…
If you click on Download Records it downloads a CSV file to your computer
6) That was for TOWERS, don't forget to do the same for ANTENNAS. This is what you will see (along with a map)…
Here you go, the link (completely free and NO sign in required). Get out your stopwatch, ready, set, go…
Remember that this is updated regularly, so do additional checks occasionally.
They like to hide some of these eyesores from us so you may not even notice all of them that are around you. I live in what is considered a rural community. Although I live in the middle of town, it is a rural city of only 1,000 people. Even a "rural community" has towers and antennas, probably more than we realize.
Being chronically ill is difficult and time-consuming enough. I love these easy free tools that help us research helpful information.
You might wonder what you are going to do with this quick info. You can't move the towers and antennas, they are not yours to move. What you can do, is know your exposure. By knowing how many are immediately in your vicinity, you can determine whether it is worth taking action or not. Nowadays there are all kinds of things we can do to reduce the amount of exposure if we need to.
Empower yourself with basic knowledge of your environment.