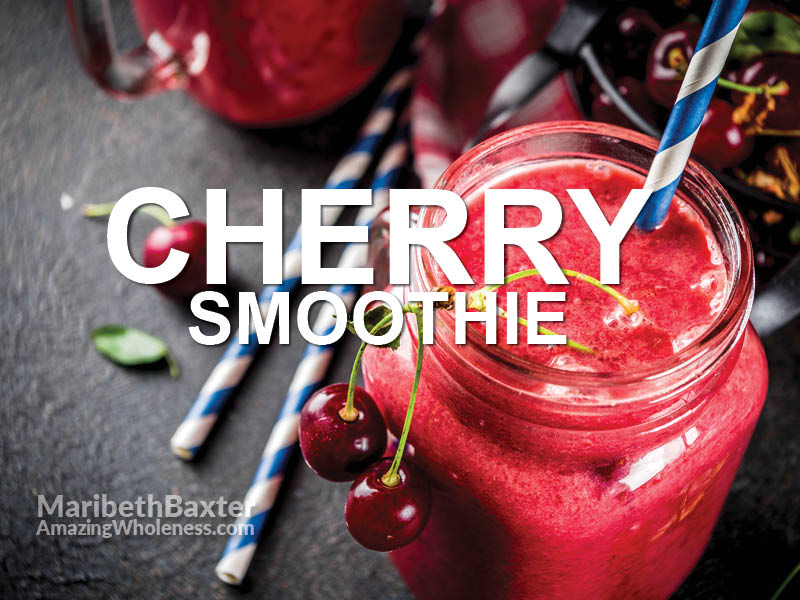 Cherry smoothies make my mouth water. Add cacao and it is a delight fit for royalty – YOU. While you are chronically ill, you can make simple meals that are beautiful, tasty and chalked full of nutrients to support your body. Come on, pick your favorite glass, whether it is a mason jar or fine crystal, a cherry smoothie looks mouthwatering…
Grab your favorite glass. If you like the feel like royalty, go for the crystal. If you just want to feel comfy and at home, go for your mason jar. Be YOU!!!!
Pull out your high-speed blender and lets go…
Smoothie Base
I start with a smoothie base. When I am trying to make a smoothie for taste AND nutrients, I use the following so that it does not taste like grass and dirt. You know what I am talking about!!
Adding Produce
What do you currently have that is green and raw? Kale (stems removed), spinach, broccoli sprouts, etc.
If you add too much it will taste more like a superfood drink than a delight. But add a handful of something you have on hand. It is a good practice to get into – use up what you have and hide it in something tasty.
Cherries
Fresh organic cherries are always best but if it is not cherry season at the moment, look in your freezer section for organic frozen cherries. Look at the label to ensure there are no added ingredients like sugar and chemicals. If you cannot pronounce or recognize an ingredient, do not buy it.
Remember, cherries have natural sugar so a large handful per serving is recommended.
And don't forget to pit them if they are fresh!! (Cherry Pitter – or use a sharp paring knife)
Superfood Nutrients
I keep a stash of superfoods in my cupboard for times like this.
I want to keep my cherry smoothie the right color so it looks cherry-ish. If you add superfood powders that are too green you will end up with a brown boring looking drink. Sometimes we make smoothies solely for our health and sometimes we make them for fun (while keeping them healthy).
Think deep red… pick one or two and add place in mixer…
Chocolate Delight
If you love cherries and chocolate, here is a grand opportunity. By using raw organic cacao powder you are actually adding another superfood. Learn more about the differences – Chocolate vs Cocoa vs Cacao
This is also a great opportunity to use RAW ingredients because you are not cooking anything. Raw organic cacao will give you the most bang for your buck. Add approximately 1 tablespoon of one of the following…
Nuts & Seeds
Cherry smoothies also taste great with nuts and seeds, if you pick the right ones. They make the smoothie more creamy with a little bit of nut flavor. Try one of the following…
Blend It Up
Blend it all up in your high speed blender. If it is too thick add; pure water, coconut water, almond milk.
While it is still a thick mixture, consider using it for one of your layers in a cherry chocolate treat…
Have Fun With Food
Make layers of fun with food.
Make a chia pudding layer.
Make a red/white/blue layer with cherries/coconut/blueberries.
4th of July is great fun with red/white/blue treats.
While you are chronically ill, have fun with food and superfood nutrients to support your sweet bodies and taste buds.
AFFILIATE DISCLOSURE: In order for me to support my blogging and social media activities, I may receive monetary compensation for links to products from this post. However, I only recommend products that I personally love and use myself. If it is not good enough for me, it certainly is not good enough for you!!
HEALTH COACH DISCLAIMER: Health/Wellness coaching is not intended to diagnose, treat, prevent or cure any disease or condition. It is not intended to substitute for the advice, treatment and/or diagnosis of a qualified licensed professional. Trained and certified Health Coaches may not make any medical diagnoses, claims and/or substitute for your personal physician's care. As your health/wellness coach I do not provide a second opinion or in any way attempt to alter the treatment plans or therapeutic goals/recommendations of your personal physician. It is my role to partner with you to provide ongoing support and accountability as you create an action plan to meet and maintain your health goals.