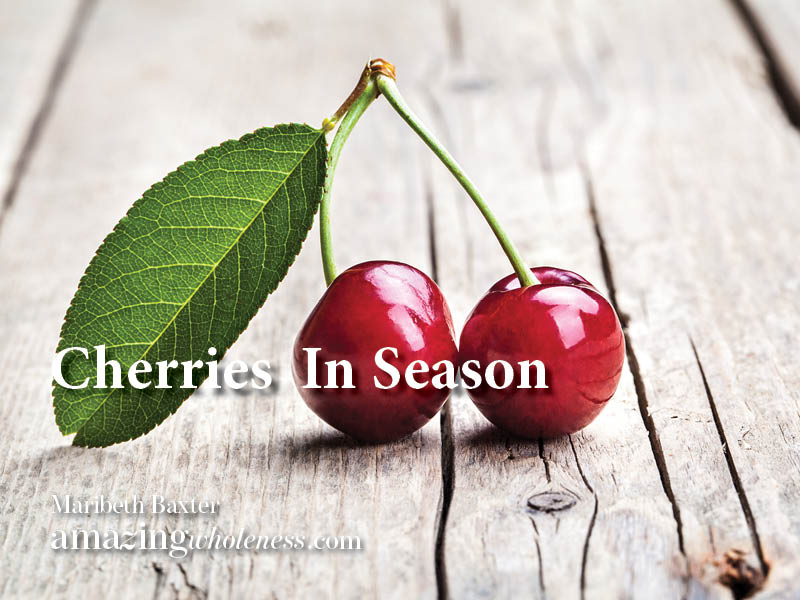 Fresh cherries are a pure delight. Try to catch them in your produce isle when they are in season.
Cherry Tree
Have you ever caught the sight of a cherry tree in the springtime? One cannot help but stop end enjoy the sight.
Cherry trees are beautiful and well known for their blossoms. Whether in Washington D.C. or Japan at famous spots, or your own back yard, enjoy their beauty during different seasons.
During summertime, the cherries are ripe and ready for our enjoyment.
If you have never seen a cherry tree in person, it is worth finding one.
Catch Cherries In Season
Since most of us don't have a cherry tree in our back yard, watch your local market for the release of these gems.
The ones you don't munch on while you are driving home, can be pitted and then frozen for future use.
Cherry Pits
Yep, fresh cherries come with pits. As you eat them fresh, spit out the pits.
If you don't want to do that, use a cherry pitter. I use this cherry pitter because it is so sturdy. Also, the handle is red so it doesn't get stained.
If you buy more than you can eat fresh, freeze the rest. Pit them first, then place them in glass freezer containers. I use glass for two reasons: 1) I don't want any chemicals from plastic 2) cherries will stain plastic.
I have to confess, I also open up each cherry to make sure there is no mold or worms inside. I use my fingers during the pitting and it all goes fast. Or you could simply use a knife. By no means is this required to eat a cherry. My goodness, people have been eating cherries off of trees for centuries. We all have our quirks!!
KIDS KORNER — This can be a messy job, so send kids outside to do the job. Or take fresh cherries on a picnic to keep them outside. They will have fun eating as they go and the mess won't be in your kitchen. Fresh air, sunshine, and cherries!!!
Sugar and Portion
Ok, so cherries are a fruit and fruit has natural sugars. During chronic illness too much of even natural sugar in fruit can be, well… too much. You have to decide where you are in the process of your illness and how much natural sugar your body can tolerate.
A good rule-of-thumb is a handful of fresh fruit a day. When it comes to cherries, I have to confess I use both hands to measure!!!
Produce Geek
A fun way to keep up with what is in season is receiving Produce Geek's FREE newsletter. Eating seasonally helps us rotate our food and eat the freshest produce possible.
Produce Geek has declared it cherry season. Enjoy!!!
Choose organic produce, worth every penny for your health and your taste buds.
AFFILIATE DISCLOSURE: In order for me to support my blogging and social media activities, I may receive monetary compensation for links to products from this post. However, I only recommend products that I personally love and use myself. If it is not good enough for me, it certainly is not good enough for you!!
HEALTH COACH DISCLAIMER: Health/Wellness coaching is not intended to diagnose, treat, prevent or cure any disease or condition. It is not intended to substitute for the advice, treatment and/or diagnosis of a qualified licensed professional. Trained and certified Health Coaches may not make any medical diagnoses, claims and/or substitute for your personal physician's care. As your health/wellness coach I do not provide a second opinion or in any way attempt to alter the treatment plans or therapeutic goals/recommendations of your personal physician. It is my role to partner with you to provide ongoing support and accountability as you create an action plan to meet and maintain your health goals.