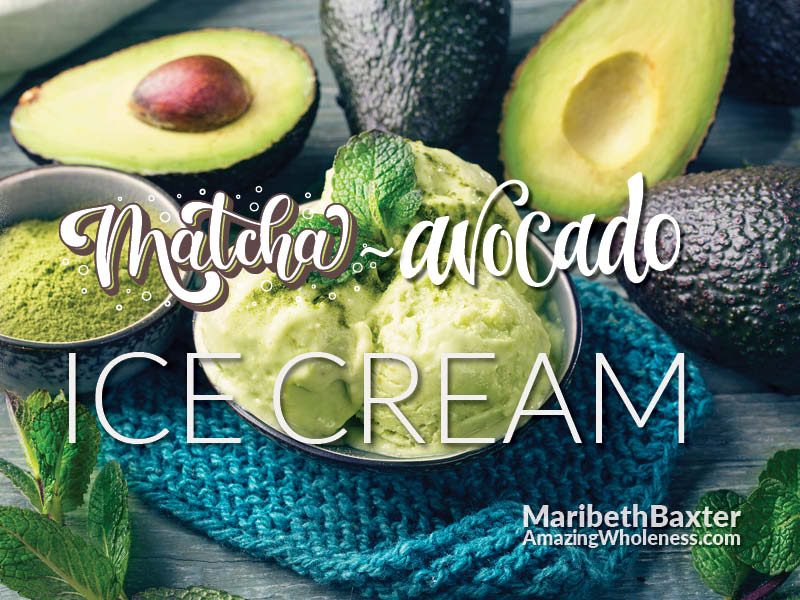 Creamy and sweet and seriously addicting. Dairy-free and sugar-free makes this enjoyable for the chronically ill that have so many food restrictions. One of the best things about it is how many different flavors you can make it. I chose to go with the green of the avocado today so I made it Matcha green. But you can use this recipe as a base for any flavor.
Addicting Avocado Ice Cream Recipe
This recipe makes approximately 2-3 servings
Ingredients…
4 ripe avocados – organic
1 teaspoon matcha powder – organic
3/4 cup honey – organic (or stevia to taste) (or 3 bananas)
1/2 cup of coconut milk – organic/unsweetened/no guar
2 tablespoon lime juice – organic
1 teaspoon Himalayan salt
Mint Optional Ingredients…
couple sprigs of fresh mint – organic
2 drops mint Essential Oils
Directions…
Blender – Scoop out the flesh of avocados with a spoon and remove the seed. Place avocado flesh and all ingredients in a blender and blend well.
By Hand – If doing this by hand…
Scoop out the flesh of avocados with a spoon
Smash with a fork until you get it to preferred consistency
Add lime juice and mix
Add matcha powder and mix well
Add honey (bananas or stevia) and mix in
Add coconut milk and mix in
Place mixture in ice cream maker or a freezer-safe bowl and freeze for a minimum of 2 hours or overnight. Once frozen, scoop away!!
Ice cream makers make this process easy but not required.
Ice Cream Recipe Base
Use the base recipe and add any flavor you want…
Base Recipe Ingredients…
4 ripe avocados – organic
3/4 cup honey – organic (or stevia to taste) (or 3 bananas)
1/2 cup of coconut milk – organic/unsweetened/no guar
1 teaspoon Himalayan salt
Add to the Base Recipe…
Chocolate Ice Cream – add…
Mint Chocolate Chip Ice Cream – add…
Berry – add…

Berries that you have on hand
Add in the blender while blending icecream together
Add a few whole berries just before freezing the mix
Christmas Ice Cream
Back to the Addicting Avocado Matcha Ice Cream Recipe!!
Plop red berries like raspberries, or even cranberries on top and you have a green and red Christmas delight fit for the sweet tooth guest, the health-nut, or even the chronically ill who need the healthy ingredients. Green pistachio nuts are fun to sprinkle on top also.
Matcha
All tea comes from the leaves of the Camellia sinensis plant, but the variations in color and taste are the result of differences in processing. The tea plants that are specifically grown and used to make matcha are typically shaded for two weeks to increase chlorophyll levels before the leaves are picked. After harvest, the green tea leaves are steamed, dried and ground into a fine powder. Matcha is a more concentrated source of nutrients than most because it uses the entire leaves.
Adding 1 teaspoon to a serving of food or drink provides a boost of nutrients without a "green" taste. Start with adding 1 teaspoon to a smoothie, salad dressing, or the above Addicting Avocado Ice Cream. See if you like it. You probably won't even notice the taste. If you like it, you can add a little more.
Color enhancer for a real food diet. Sometimes we like to emphasis color. Matcha is intensely green and maintains its color in food and drinks.
Making Food Fun
Even when we are chronically ill, there are ways to make food fun. Swapping out the sugar, chemicals, and junk for healthy alternatives allows us to continue having all-time favorites while on our wellness journey.
It is a choice to eat in ways that nourish our bodies and minds. Instead of feeling deprived or quilty, we can feel like we are taking responsibility for our health and still getting joy out of food.
People were created to eat and be nourished by their diet.
Maribeth Baxter
AFFILIATE DISCLOSURE: In order for me to support my blogging and social media activities, I may receive monetary compensation for links to products from this post. However, I only recommend products that I personally love and use myself. If it is not good enough for me, it certainly is not good enough for you!!