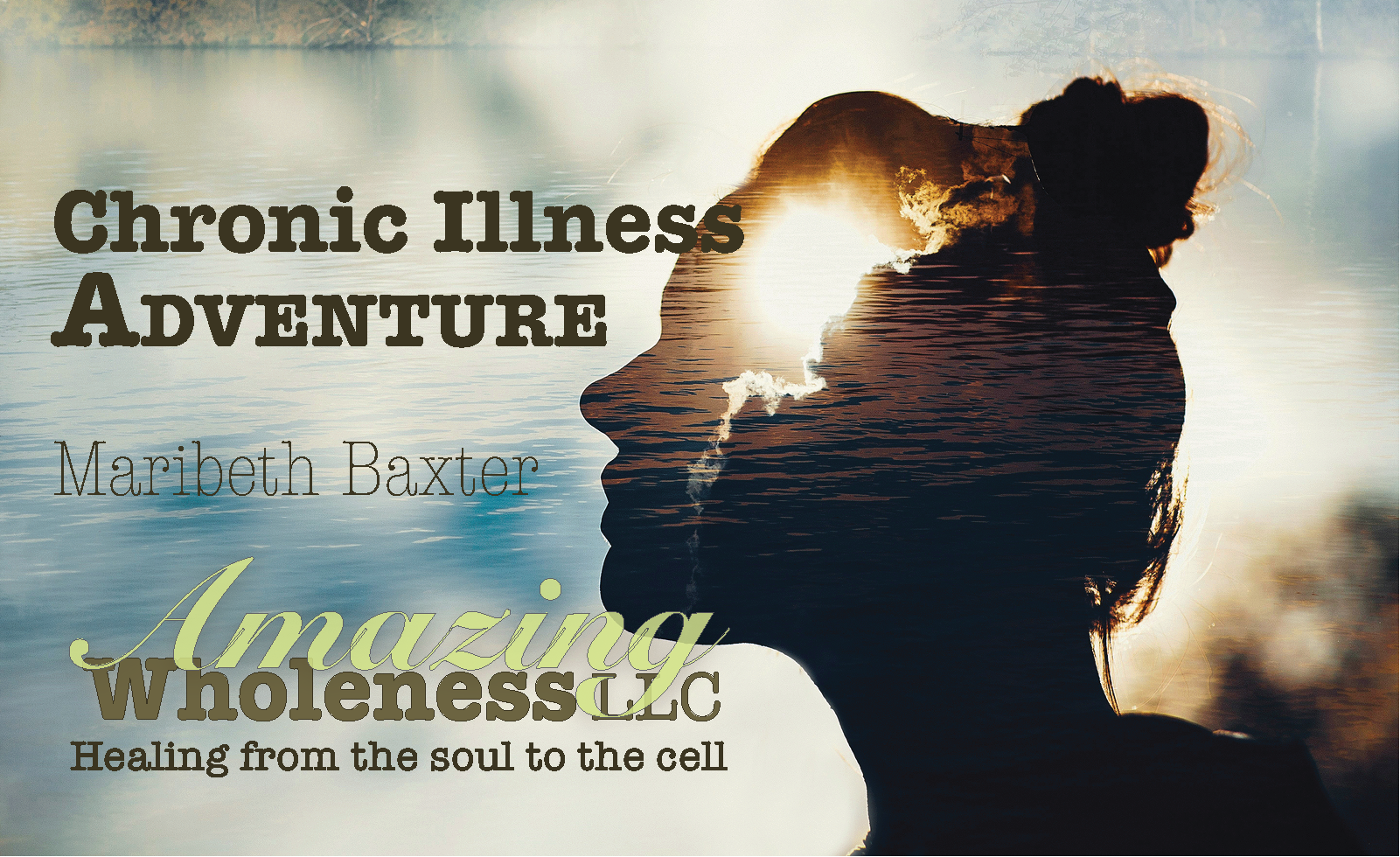 I made it!!! I not only survived, but I also conquered. It always amazes me how much we can get done when we pace ourselves. Being chronically ill certainly has its limitations but when we use our common sense we can work around the impossible. I am having an "I am possible" day. Get it, I'mPossible = impossible. Yep, I tell awful jokes when I am floating in a victory.
You joined me yesterday, holding my hand, keeping me company and cheering me on (well, in my vivid imagination you did). So let's pick up where we left off after I crashed.
Listening to Physical Warnings
Heart/Vascular warnings: I have no idea how many more heart attacks I can take so I have learned to STOP everything when enough is enough. Yesterday you watched me hit my physical limit. I had to suddenly stop, no matter what.
Collapsed colon warnings: My transverse colon is already collapsed. If I move too much, it puts me at risk for it to twist and I would need emergency surgery. My collapsed colon is very slowly healing. I get to keep it if I don't do anything stupid.
All the good attitudes in the world do not overcome some health issues.
We each have our weak spots in our health while we are chronically ill. Pay attention without becoming paralyzed with fear.
Back to Upside Down Cake
So….. yesterday, I actually was able to rest long enough to calm my heart before the bed delivery dudes arrived.
The bed company sent a notice saying they would arrive in 1 hour. I was ready to get the rest of this stuff done.
Cake = a delivery company that actually communicated clearly, rare!!
There were some tears from pain along the way.
How stinking hard can it be to move an air mattress???? My goodness, it is filled with AIR.
Well, my poor hands have taken a beating from my illness. When I use them, they get overly sore, then they get numb and then the wild pain sets in. I did WAY too much already. My hands struggled with moving that darn air mattress THREE stinking feet so I could have access to my laundry.
I did it!! The air mattress fell a couple of times because I could not hold it, but I finally got it moved. Back to doing more laundry. My biggest quilt just won't completely dry, no matter how many tumbles in the dryer.
Cake = I am standing instead of still collapsed from heart problems. This is good.
Double dang, my hands were in pain. You cannot see pain so the pictures were more for my benefit than yours. I needed to feel encouraged to keep moving. I could hear your pretend cheers.
All the pain from the last two days in my hands created a rash. I know, how silly is that. My body reacts with all kinds of funky rashes, always has.
The FOUR bones that MOVED in my hands were hurting now from the painful rash on top of the relocated bones, just from using them.
If you think you are listening to complaining, YOU ARE. This is when the tears started. This is when I needed someone at my side to help. At least a cheerleader. I chose to cry and take pictures and get through it the best I could.
Cake = my choices were good so my attitude stayed above my tears and pain.
No picture can show how much my bones have literally moved in my hands. Now that the bones are not where they belong, my hands are not only deformed but they HURT like the dickens when I use them.
Cake = during my worse years of this health crash, my hands were TWICE the size as they are now from the inflammation. Progress, I will take it.
Extra Cake = my pitiful hands remind me of a loving grandmother who suffered from her own health issues and her hands did not work well either. I remember her trying to fix me treats when I went to visit her and she needed my help to open jars and do basic things. She endured painful hands, for me. Her value was not about her hands, it was the love she oozed out every single time she saw me. 
My special grandmother is long gone but her grit and love still encourage me to this day. With sweet memories of someone so dear to me, I chugged along, with a smile, just like she always did.
I wanted my nightstand back. That meant I had to move it from the guest room to my room. Last time I moved it, it took a month to move it a few inches at a time. That was all I could do at the time. Look at me now!!!! It is on wheels thank goodness but my hands don't do well even pushing something that heavy. But I did it!!!!!
DELIVERY TIME: All I could do was let the delivery dudes do their thing while I sat on my bench. They arrived with smiles and manners, which go a long way with me. It was a pure delight to have 2 twenty-year-olds show up with smiles and manners.
They got the beds where they belong and even put the bedskirt on for me. There was no way my hands were going to handle that. Without any explanation from me, they were willing. And they smiled the whole 15 minutes they were in my home.
Cake = The value of a smile from strangers goes a long long way when we are isolated because of illness!!!! 
The smell of chemicals immediately got to me so I could not crawl into my new bed. Since I have been dealing with chemical sensitivity my whole life, I knew what was going on. I also know that "off-gassing" is part of buying new things like furniture and beds.
I opened two windows in my bedroom and shut the door. And waited. Five hours later it was 9 p.m. and there was NOTHING left of me to sit up on the bench any longer. I had to go to bed. Made the bed and crawled in.
Ahhhhhhhh, comfort. Woke up a few times through the night from Babesia issues (co-infection of Lyme and cousin to malaria). I did the shiver shakes from it and then went right back to sleep. Then I would wake with the sweats from it, kicking off all the covers, and then went right back to sleep. Boy oh, boy did I sleep.
Cake = Sleep, basic old fashioned SLEEP!!!!!!!
This morning was a whole new day and I was bright-eyed and bushy-tailed. Made my bed and started more laundry. Bounced on my rebounder 50 times and did NOT get winded like usual.
Okay, I did not remember that this rebounder does not fit under my bed like my old one did.
If I leave it out, right in the middle of the room, I would bounce on it every time I walk past it. Maybe this is a good thing.
Cake = find the good, in everything. Make it up like I just did if you have to. 
Little by little I got everything into place this morning. I have my essential oils and diffuser on one night stand. My CD player on the other. I have my handy-dandy bed tray to hold my computer and water. I even had the energy to make my bed this morning.
Found an old rug that was in storage that I could use. Life is good.
Cake = After a good night of sleep, I have my thinker working to figure out how to put my bedroom back together again with what I already own instead of pouting about what I do not have.
Sleep gives us the energy to have a good attitude and use our brains to figure things out!!
Hummm, now what? I used to own enough pillows that I could sit up in bed. They were trashed with the beds almost a year ago. What can I find that I already own that will work?
My outdoor furniture is currently being used as living room furniture. I have an extra set of cushions that I already own. They are clean because they have never been used outside. Goofy but free.
Cake = I have the ability to see the ingredients that I have and ignore what I don't have. I have the ability to make a cake, no matter what!!!!
I crawled in to test it and I was so comfortable that I just stayed there.
Thank you for joining me on this adventure, cheering me on all the way. I realize how goofy of a thing this was to do but I needed to turn the situation upside down and create an adventure out of something difficult.
It worked. Here I am, comfy as can be. I can stay here as long as it takes to recover from the bed event.
Finding adventure instead of disaster works. My cake may be upside down, but it is sweet to be sitting here in such comfort.
Finding nourishment any way I can get it… Wishing you the same!!
Maribeth Baxter, MBNC (Certified Mind-Body Coach)
---
FaceBook Page for Amazing Wholeness
---
AFFILIATE DISCLOSURE: In order for me to support my blogging and social media activities, I may receive monetary compensation for links to products from this post. However, I only recommend products that I personally love and use myself. If it is not good enough for me, it certainly is not good enough for you!!
---
HEALTH COACH DISCLAIMER: Health/Wellness coaching is not intended to diagnose, treat, prevent or cure any disease or condition. It is not intended to substitute for the advice, treatment and/or diagnosis of a qualified licensed professional. Trained and certified Health Coaches may not make any medical diagnoses, claims and/or substitute for your personal physician's care. As your health/wellness coach I do not provide a second opinion or in any way attempt to alter the treatment plans or therapeutic goals/recommendations of your personal physician. It is my role to partner with you to provide ongoing support and accountability as you create an action plan to meet and maintain your health goals.
---