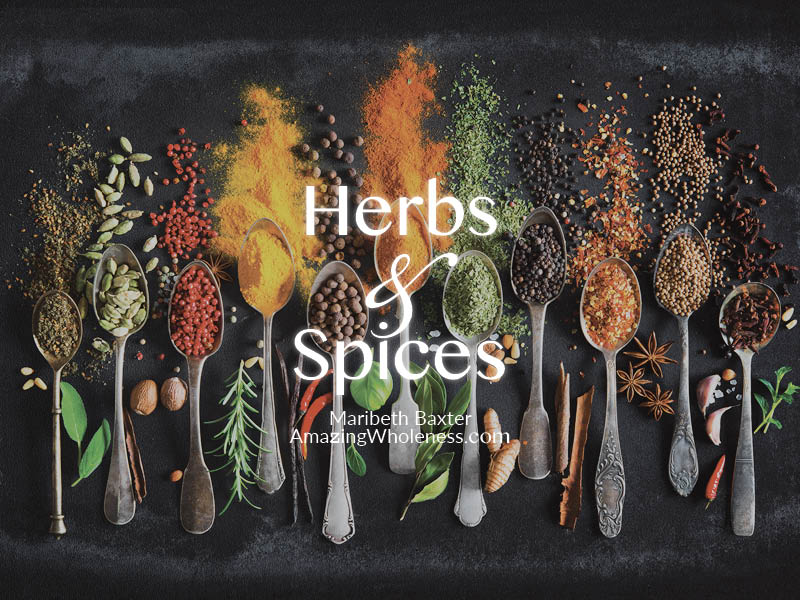 Flavor matters. Start with real food, it already has layers of flavor. Add some herbs and/or spices and you have a gourmet delight with very little effort.
Let food be thy medicine and medicine be thy food.


~ Hippocrates
Keep it simple. Keep the basics in your cupboard and you are ready to prepare quick meals that taste like you know what you are doing, because you do!!
Basic Herbs & Spices
Fresh is always best. When fresh is not available, try dried herbs and spices.
Buying it a pound at a time is more economical by far. When we use it on a regular basis, it gets used up fairly quickly.
Always organic!!!
Purposely did not tell you what tastes best on what. We all have different tastes. Try herbs and spices on your food and see where your taste buds take you.
Healing with Herbs & Spices
We don't have to make this complicated. Herbs and spices have healing properties, so use them!!
When we simply add herbs and spices to real food, they will work for us, not against us.
Don't use anything that you are allergic or sensitive to. When we are chronically ill, we don't need additional reactions to things.
A little goes a long way with your taste buds. Start with just 1/8 – 1/4 teaspoon and see what you think. If you like it, add a little more. You can always add but you cannot take away.
Grinding Herbs & Spices
There are a lot of herbs and spices that can easily be ground to release more flavor and possibly more nutrients in some cases.
Some people just simply don't like the texture of the chunks of some herbs and spices.
It is super duper easy to grind them in a coffee grinder.
I use my coffee grinder daily for various things and it has last many long years.