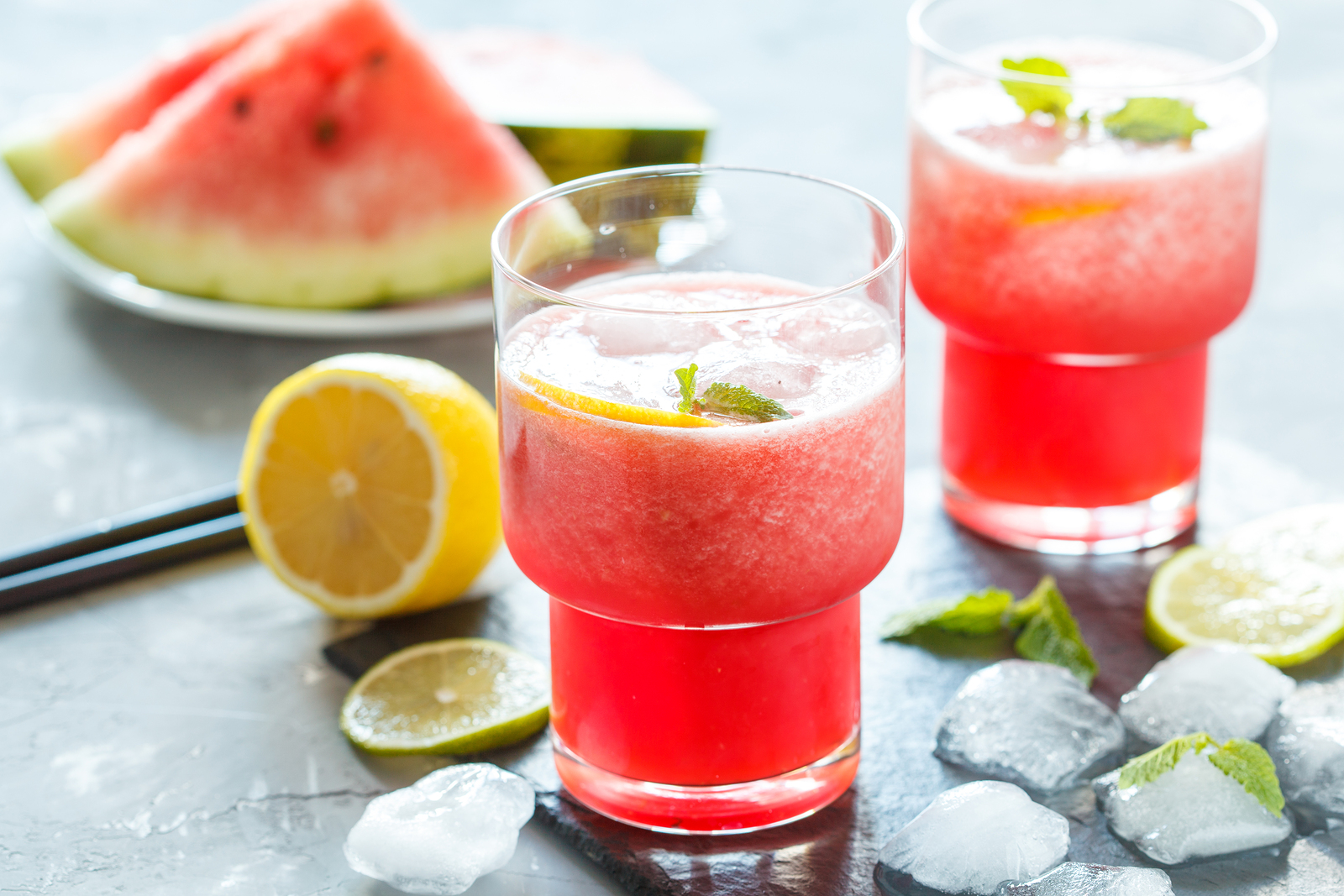 Summertime provides an abundance of watermelons. Usually, our bodies adapt well to eating things that are in season. We are used to eating them cut up, using a fork or spoon. Have you tried drinking your watermelon? It is sweet and refreshing. Add some lemon or lime and some fresh mint and it is fabulous. Add coconut milk and you won't get the blood-sugar spike and you will have a creamy watermelon delight. Recipe below.
Watermelon Drink Recipe
If you like cold drinks – refrigerate all ingredients ahead of preparation (or you can add ice to the blender).
Watermelon: One personal size watermelon will make at least 2 drinks. Scoop out watermelon from rind (there are more nutrients in the rind than the red/meat part of the watermelon, so scoop out some of the white parts of the rind).
Lemon and lime juice: Squeeze the juice of one lemon and one lime. Lemons and limes keep skin glowing, aids in digestion, detoxify and can help you lose weight.
Mint: Place 2-4 sprigs of fresh mint in the blender with the mix and garnish with a sprig of mint.
Coconut Milk or Cream: Milk will keep your drink watery and cream will thicken it. Start with 2 tablespoons per drink. Add more if you like it. The more the better.
If you already use a protein powder, use a scoop of it in this recipe.
Place in blender and blend for less than a minute and drink immediately. Watermelon juice separates quickly so it looks more appealing right after it is blended. The coconut milk makes it not separate so quickly.
Popsicles: Take same mixture and place in popsicle mold and freeze.
Blood Sugar
If you are used to eating watermelon alone you might have noticed a spike in your blood sugar. That is why I do not normally recommend eating watermelon, as tasty as it is. My exception is when it is in season and it looks so good that you just cannot resist. When this happens, go for it and thoroughly enjoy.
To counteract the spike in blood sugar when eating watermelon, add some organic coconut milk or coconut cream. When you consume too many sugars and carbs, you set off a cascade of chemical reactions in your body that makes you hungry and craving for sweets which can lead to disease (or keep us in chronic illness and pain). Adding healthy fats and protein to watermelon can help to keep blood sugar levels steady instead of spiking.
"It follows logically that if you can limit carb intake to a range of which is absolutely necessary… and make the difference up with tasty fats and protein, you can literally reprogram your genes back to the evolutionary-based factory setting you had at birth – the setting that offered you the opportunity to start life as a truly efficient fat-burning organism and to continue to do so for the rest of your life as long as you send the right signals to your genes," – Mark Sisson
Make a meal out of a drink
By adding lots of fat to a drink, you have just made a meal out of a drink. To feel even fuller, add a quality protein powder. Liquids are easier to digest, helping you lose weight. Making a meal out of a drink is also a quick and easy "meal." This recipe is great for summers when we naturally do not feel like eating as much.
Fat for Fuel
"…it's becoming increasingly clear that the same pathological process that leads to insulin resistance and type 2 diabetes may also hold true for your brain. As you over-indulge on sugar and grains, your brain becomes overwhelmed by the consistently high levels of glucose and insulin that blunts its insulin signaling, leading to impairments in your thinking and memory abilities, eventually causing permanent brain damage.

Alzheimer's disease has even been dubbed "type 3 diabetes." Here again, saturated fats play a role, as they are crucial for healthy brain function. This mistaken fat phobia has undoubtedly played a significant role in the dramatic rise in dementia and other neurological disorders along with type 2 diabetes, because your brain cannot function properly without fats. In fact, most people benefit from up to 50 to 85 percent of their daily calories in the form of fats for optimal health while they are seeking to resolve their insulin resistance."– Dr. Mercola
Do you love watermelon as much as I do? Do you get less of a sugar rush/spike when adding a quality healthy fat?
Maribeth Baxter, MBEC
Donations accepted to serve others on their chronic illness journey. Maribeth Baxter, MBEC provides voluntary certified health coaching services to the financially limited during their time of crisis.