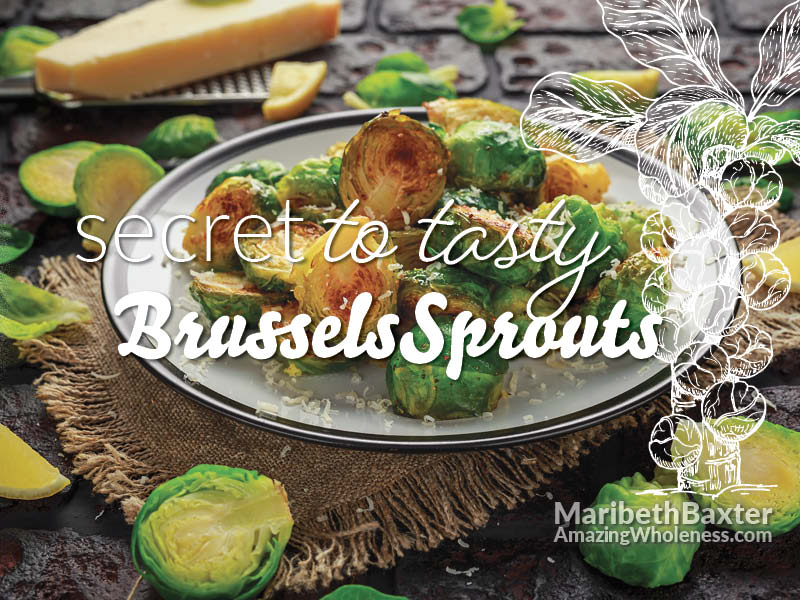 Don't knock poor Brussels sprouts until you have eaten them cooked correctly. Once I figured out how to prepare them correctly, they have become one of my favorite veggies. They're now in season so grab a bag and give it a try. I promise to tell you the secret to making them tasty…
Wild to put an S at the end of Brussels but that is how it is spelled. Now that I spell it correctly and prepare them correctly, I LOVE THEM!!
They do look funny as they grow…
Buy organic Brussels sprouts in the produce aisle of your local grocery store. Even better, purchase from your local farmer's market.
They look like miniature cabbages and they can be green or purple.
Secret to Tasty Brussels Sprouts
This is so simple that you don't have an excuse not to try them.
Rinse them off in a colander.
Cut the stem off and remove the loose leaves. If they are larger than bite-sized, cut in half.
SECRET… Quickly cook them on high heat. That simple. They can taste nasty and squishy if they are cooked low and slow. Just simply cook on high and short cooking time.
Oven — 450 degrees for 5 minutes one side, flip them and bake another 8 minutes
Stovetop — place them cut side down in hot oil or grass-fed butter for 15 minutes
Out of excuses, give it a try.
Baked Brussels Sprouts
If you are turning on your oven, might as well make a whole sheet of baked wonders. Roasted veggies are easy and one of the most delicious Autumn and Winter foods there is.
Grab a baking sheet
Cover it in olive oil (coconut oil is another option)
Another option is parchment paper
Cut up into bite-sized pieces; Brussels sprouts, turnips, potatoes, sweet potatoes, beets, radishes, and a variety of squashes and place on oiled baking sheet
Drizzle a little oil on top
Salt with sea salt or Himalayan salt
Pepper with organic pepper
Bake in a preheated oven at 450 for 5 minutes then flip and bake another 8 minutes
Poke them with a fork to make sure they are tender
Then ENJOY
Stovetop Brussels Sprouts
When I don't want to turn on my oven, I easily make Brussels sprouts on my stovetop.
Heat (medium to medium high) a skillet or dutch oven (see below for cookware recommendations)
Add oil or grass-fed butter
Place Brussels sprouts cut side down in hot sizzling oil or butter
Keep an eye on them so they don't burn
About 5 minutes into the cooking time, add balsamic vinegar and let it soak in while continuing to cook
KEEP an eye on them – at this point it can burn easily
Poke a fork in them – when they are tender, they are ready (approximately 15 minutes)
You can add other delights to the pan as well during the cooking process; onions, squashes, beets, radishes, etc.
Stir-fry is another option because you are cooking ingredients on high and cooking quickly.
Still Not Convinced??
Make this easy on your taste buds. Add sliced apples or pears and cook with your Brussels sprouts. You can even sprinkle on some cinnamon. Now that makes for an easy way to test the tasty delights of Brussels sprouts.
Remember — peep apples (or pears) for easier digestion if you need to.
Nutritional Value of Brussels Sprouts
Brussels sprouts are a cruciferous veggie; a member of the family of vegetables that includes broccoli, Brussels sprouts, cabbage, cauliflower, collard greens, kale, and turnips.
Brussels sprouts nutrition has many important health benefits: antioxidants, anti-inflammatory properties, immune-boosting properties, and support for digestive health.
They help fight cancer with their antioxidant and phytochemical properties. Their anti-inflammatory properties help fight heart disease. You get a boost to your immune system with Vitamin C. They can help bones by providing Vitamin K. They also contain a surprisingly high amount of protein.
Brussels sprouts pack a punch, both nutritionally and their taste – if prepared correctly.
Never Use Non-Stick Cookware
Never use non-stick cookware because of the toxicity. I personally have invested in cookware that has lasted decades, seriously. Buy once and take care of it!!
Crazy expensive and worth every penny. I honestly have had my Le Creusent dutch ovens for over 30 years. I have used them almost daily and they still work perfectly. I use them on the stovetop as well as in the oven and they work for everything you can imagine. My stainless steel Cuisinart pans have been an excellent investment as well. I will never have to purchase another piece of cookware EVER. Replacing non-stick with quality cookware is wise for your wallet and health!!!
Non Stick Cookware-It's been 40 years since nonstick pans were introduced. Although the concept is appealing to most cooks, the hazards just aren't worth it. Nonstick coating is made of polytetrafluoroethylene which release toxic gasses that are linked to cancer, organ failure, reproductive damage and other health risks.

~ GreenMedInfo
Produce Geek keeps up with all the fresh produce. They provide their service for FREE. Easy sign up with your email address – CLICK HERE to sign up. I have no affiliation with them, just think they provide a great service for REAL FOOD EATING.