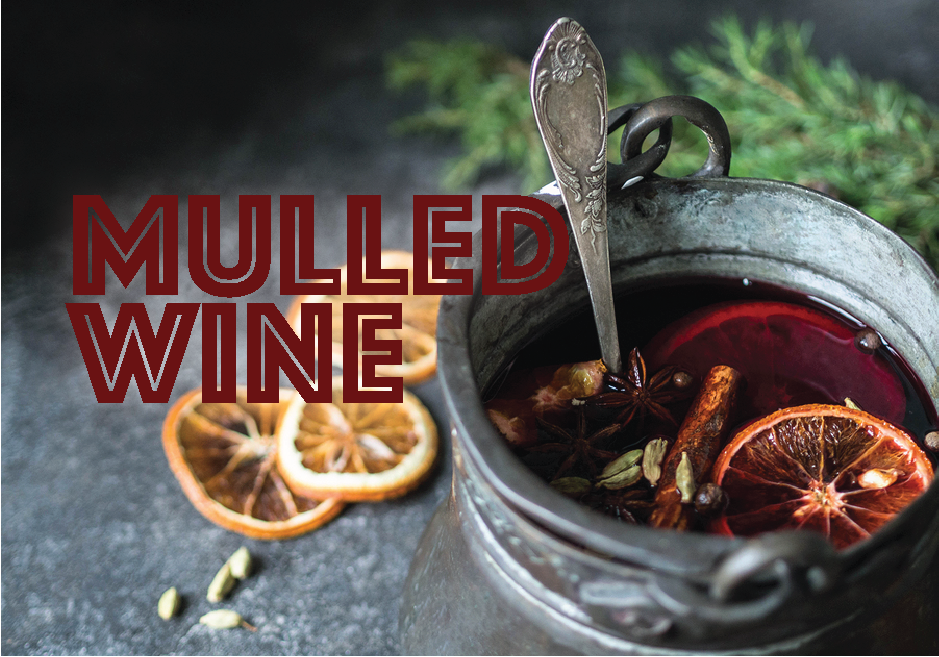 It is Christmas time and mulled wine can sound divine to many. Yes, the debate on alcohol and illness/health/morals will continue to the end of the ages. If you are one who partakes, enjoy the health benefits of spices and CLEAN red wine. 
Mull It Over: To Wine or Not to Wine?
Listen to your particular body. Does it deal with wine or not?
My personal experience with chronic illness came with a forced complete halt to all alcohol. Neurologically, my body could not deal with it at any level for many years. There was no debate for me when this happened, I completely stopped but missed it. In time, this may or may not change.
There are social aspects to wine. There are "religious" aspects to wine. There are social aspects galore. There are personal aspects; preference, family history, tolerances, circumstances, personal history, current health, etc.
One way or the other, it is a personal choice, that may or may not change with time and/or illness.
While you are chronically ill, if you chose to drink wine, what I am suggesting is that you do it wisely. What is wise for one may not be wise for another. Use your own brain and wisdom to make the best determination, for you and your health.
Nourishing the Soul with Mulled Wine
Something that would be soul-nourishing to me would be fresh air in the woods, start a campfire, put on a pot of mulled wine and let others sing while it cooks.
Mulled Wine Can be Nourishing
Mulled wine is made with red wine and spices, both can be nourishing.
Red Wine Healthy Lifestyle
Enjoying the health benefits of red wine is not a new practice. The research revealing instances dating back to 3150 B.C. shows traces of wine along with herbal residue being used for a multitude of health benefits. ~ Ancient Egyptian Herbal Wines
In modern times we can simply look at the French dining traditions that likely create their better health than Americans. Not only do they slow down more for meals but they enjoy a greater sense of "community" and include wine. This is actually well-researched. ~ NCBI; Moderate red wine consumption and cardiovascular disease risk: beyond the "French paradox
When red wine is consumed in moderation it may have a positive effect on health. It may contribute to heart health, reduce oxidative stress, level out blood sugar levels, improve cognitive function. Red wine may be considered as a superfood with powerful antioxidants; like quercetin and resveratrol. They can heal the body on a cellular level. ~ NCBI; Red wine: A drink to your heart
Cardiovascular diseases kill more than 630,000 Americans a year, men and women pretty much equally. Since 1 in 4 deaths in America is due to heart disease, there is much wisdom in becoming familiar with the facts. ~ CDC; Heart Disease Facts
Clean Wine vs Conventional Wine
Conventional everyday grocery store shelf wine usually contains up to 70 added ingredients; preservatives, GMO's, flavoring, food dyes, unnatural yeasts, sulfites, pesticides, unwanted sugars, etc. ~ Surprising Ingredients You Probably Didn't Know Were in Your Wine
My suggestion is to buy organic wine or at least "clean" wine.
Thrive Market recently opened up their Clean Wine line. It is very reasonably priced and is shipped for free with minimum purchase (to adults).
Spices for Mulled Wine
The spices in mulled wine are filled with nutrients providing health benefits: cloves, allspice, nutmeg, cinnamon, anise, cardamom, and ginger.
Cloves ~ Oil of Cloves – the Aromatic, Anti-Cancer Essential Oil
Nutmeg: Use in SMALL amounts. Rich in vitamins and minerals like vitamin B6, thiamin, manganese, magnesium, folate, and copper. When used in small amounts, nutmeg can help to aid digestion, ease pain, promote detoxification, boost cognitive function and regulating blood pressure levels. ~ NCBI: The spice of life: an analysis of nutmeg
Cinnamon: Health benefits include anti-inflammatory, antioxidant, antimicrobial, anti-diabetic, immune-boosting, heart-protecting and cancer-fighting properties.  ~ NCBI: Cinnamon: A Multifaceted Medicinal Plant
Anise: Health benefits include aiding digestion, relieve coughs and colds, increase urine flow, stimulate appetite, ease menstrual discomfort, increase sex drive and anti-flatulent. ~ NCBI: Review of Pharmacological Properties and Chemical Constituents of Pimpinella anisum
Cardamon: Rich in phytonutrients and manganese. Consuming ground cardamom can help fight bad breath and the formation of cavities, lower blood pressure, balance blood sugar, aid digestive system and has anti-cancer properties. ~ NCBI: Blood pressure lowering, fibrinolysis enhancing and antioxidant activities of cardamom
Ginger: Health benefits include reducing inflammation, boosting the immune system, supports digestion, lowers cholesterol levels, may improve diabetes, has potent antioxidants, reduces pain and has anti-cancer properties. ~ NCBI: Anti-Oxidative and Anti-Inflammatory Effects of Ginger in Health and Physical Activity
Additional Flavor in Mulled Wine
Other flavor-giving elements such as orange and lemon (slices with rind and juicy pulp, or just the rind) are delightful in mulled wine.
Vanilla is one of my favorite additional flavors. Health benefits include; ability to fight bacterial infections, reduce inflammation, boost mental health, reduce fevers and improve cholesterol levels. ~ NCBI: Studies on the antioxidant activities of natural vanilla extract…
Sweetened Mulled Wine
Mulled wine is generally sweetened with either sugar or honey. If you use honey, remember to check if someone is allergic to honey or bee products in general before serving. My favorite is raw organic honey.
Recipe for Mulled Wine

Ingredients:

Directions:

Combine wine and spices in a pan
Bring to a boil, then simmer 10 minutes
Strain out any whole spices etc
Place back in pan
Add in lemon and orange slices now AND/OR later
Cook over low heat until thoroughly heated
Add honey right before serving
Serve warm and enjoy

Slow Cooker Variation: Combine all ingredients in a slow cooker, set to low heat and warm for at least one hour before serving. Don't forget to strain before serving.

Festive Twist: Have a bowl of fresh slices of orange and lemon available. Adding whole clove to citrus slices make it festive for the holidays.
Enjoy responsibly!!
Maribeth Baxter, MBNC (Certified Mind-Body Nourishment Coach)
---
FaceBook Page for Amazing Wholeness
---
AFFILIATE DISCLOSURE: In order for me to support my blogging and social media activities, I may receive monetary compensation for links to products from this post. However, I only recommend products that I personally love and use myself. If it is not good enough for me, it certainly is not good enough for you!!
---
HEALTH COACH DISCLAIMER: Health/Wellness coaching is not intended to diagnose, treat, prevent or cure any disease or condition. It is not intended to substitute for the advice, treatment and/or diagnosis of a qualified licensed professional. Trained and certified Health Coaches may not make any medical diagnoses, claims and/or substitute for your personal physician's care. As your health/wellness coach I do not provide a second opinion or in any way attempt to alter the treatment plans or therapeutic goals/recommendations of your personal physician. It is my role to partner with you to provide ongoing support and accountability as you create an action plan to meet and maintain your health goals.
---