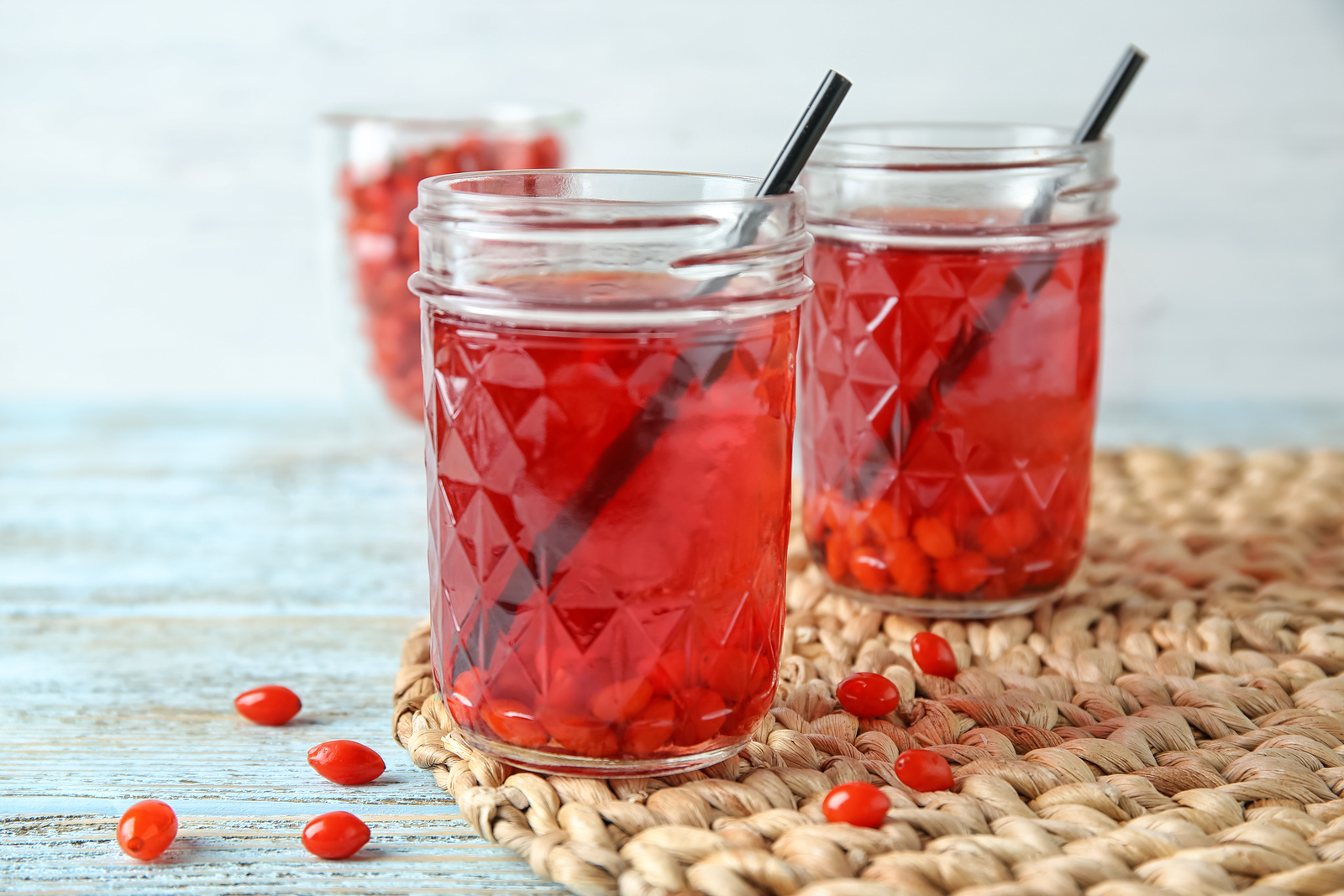 Hydration is essential but can get quite boring if you do not like water. I love water but drink so much of it that I was ready for something new. I made an infused water last night that was a delight to have ready and waiting for me this morning.
I woke up to this glorious sight this morning. 
Hibiscus Infused Tea
It was so easy that it is almost embarrassing.
I placed only one organic Hibiscus tea bag in a 32-ounce wide-mouth mason jar with pure spring water.
Placed it in the refrigerator overnight and woke up to this!!
I did not even heat the water first. It just does not get any easier than that.
Your favorite tea would work also. You could use loose leaf tea and use a filter/infuser.
When you are ready to drink, you can drink as is. I personally love it plain and simple.
Or you could:
Add fresh juice of a lemon / lime / orange
Add cucumber slices
Add fresh organic mint or thyme
Add kombucha or

Pellegrino

to make it bubbly
Use this tea as the liquid in a smoothie
The mason jar with a lid helps to keep it sealed properly in the refrigerator. It also keeps the liquid in glass, which is much healthier than plastic.
I use mason jars for many things. The accessories make mason jars so versatile that I have fewer dishes to wash and certainly less to buy. Using mason jars for everyday glassware makes life easy. When I have company or want to feel like an English Lady, I pull out my good stuff.
How much water every day?
Drink 2 full 32-ounce jars of water and/or light tea and you have most of your daily requirements for hydration. Hydration standard is half your weight in ounces. So, if you weigh 200 pounds, you would drink 100 ounces of water daily. Coffee, caffeinated tea, soda, etc. deplete hydration, not add to it.
If you want to get technical about it all, drink the hydration standard in pure water (NEVER city tap water) and then drink your tea in addition.
Slow down!!! Grab a glass of infused tea and relax and enjoy.
Shopping List

Mason Jars: 32-ounce wide-mouth

Infuser for wide-mouth mason jars

Hibiscus tea bags, organic of course!!

Hawthorn with Hibiscus tea, organic (Hawthorn is used for heart health)

Goji berries, organic, make a great cool tea as well (use the infuser)

Pellegrino in plastic or Pellegrino in glass
How do you like your tea? Do you sip, slurp or guzzle it?
Maribeth Baxter, MBEC (Certified Mind-Body Eating Coach)