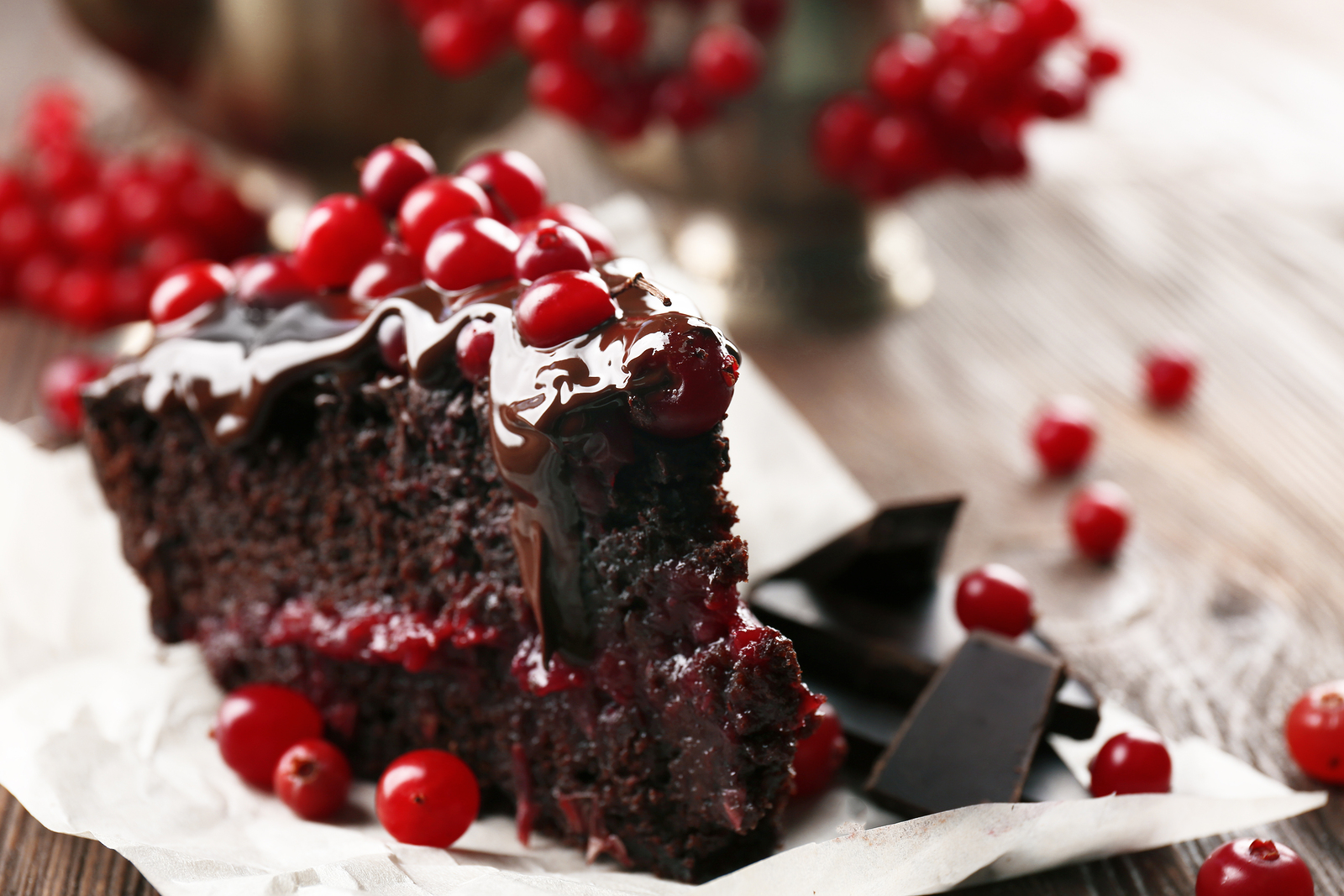 Oh, my stars this looks good. That layer of cranberry sauce between sweet luscious chocolate cake layers, oh my. Are you on a gluten-free dairy-free processed-sugar-free diet? This can still work for you too. There are SO many ways to have sweet chocolate and a bite of tart cranberries. 
Where to even start, there are so many ways of doing this. All of these can be made with gluten-free, dairy-free, precessed-sugar-free recipes. If you are chronically ill, don't despair, you can find ways to have luscious Christmas delights. Keep reading for tips and tricks for eating these heavenly delights in a healthier manner.
This is Christmas and there are chocolate treats already made or in the works. Explore the possibilities of adding cranberries to your chocolate wonder.
Cranberries
Use whole raw cranberries
Use leftover cranberry sauce
Keep it Simple
Simply add whole raw cranberries on top
Simply pour a spoonful of leftover cranberry sauce on top
A sprig of mint or rosemary adds green, making it extra festive
Stripes of Cranberries
Use white dishes/cups to bake a brownie
Add cranberry sauce and let it dribble over to make stripes like a candy cane
Cranberry Layer
Before baking your favorite cheesecake recipe, add a layer of cranberry sauce
Top with whole raw cranberries for festive decoration
Chocolate-Chia Pudding Chrismas Delight
Add a layer of chia seeds soaked overnight in coconut milk (stevia for sweetener)
Top with cranberries, nuts and a sprig of mint
Healthy Chocolate Tips
If you are on a gluten-free diet, replace wheat flour with coconut flour or almond flour (best to look up specific gluten-free recipes to get the best results).
Optimize every chocolate bite!! It is the sugar, milk, and additives in "chocolate" that harm your body and contribute to weight gain. Explore Chocolate vs Cocoa vs Cacao to understand what your options are. It is easy to replace unhealthy "chocolate" with nutrient-rich cacao.
This morning while I was thinking about all of you getting ready for Christmas I made my favorite Crazy Amazing Chocolate Pudding.
For the sweetener, I used organic maple syrup and blackstrap molasses for a Christmas twist.
Placed it all in individual glass containers that have lids for refrigeration.
Scooped one spoonful of leftover homemade cranberry sauce on each serving.
Refrigerated it so it is ready for my holiday meal.
It took me all of 15 minutes to make it.
While on the journey of chronic illness, find ways to enjoy food that contribute towards your health. There are SO many healthy recipes and ideas that are filled with taste and nutrients to build your health.
Enjoy my FREE gift to you, Cranberries for Holidays. Explore more about what all we can do with cranberries. One-click FREE download. No email, no waiting, no digging it up in an email, JUST CLICK HERE!!
Grab the FREE Cranberries for Christmas Coloring Book for All Ages too.
Merry Christmas and Many Blessings,
Maribeth Baxter, MBEC (Certified Mind-Body Eating Coach)